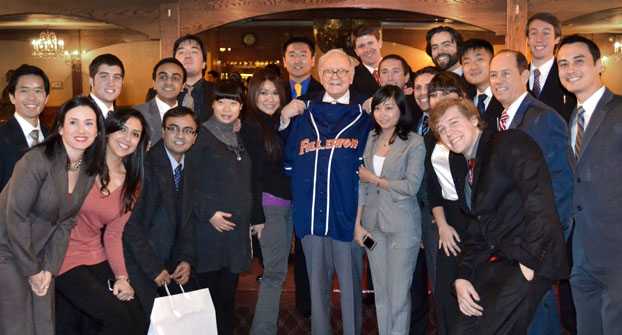 Caption: Business students present a Titan shirt to Warren Buffett during their lunch with the chair of Berkshire Hathaway. 
Lunching With Warren Buffett
Business Students Meet With Berkshire Hathaway Chairman in Omaha
Feb. 14, 2012
They have studied his businesses, his philosophy and his background, but now Titan business students have had lunch with billionaire Warren Buffett, chairman of Berkshire Hathaway Inc.
Nineteen CSUF business administration majors now can say they have talked and dined with the investor and business leader. Last month, they traveled to Omaha to attend a two-hour question-and-answer session and have lunch with Buffett.
The visit came about through the efforts of graduate student Parth Bhatt, who attended Berkshire Hathaway's annual meeting in 2009, then approached company officials to get a group of his fellow students invited to one of six question-and-answer sessions Buffett holds annually with students. Bhatt's persistent efforts finally landed Cal State Fullerton a slot this year.
"I am a huge Buffett fan and was always interested in meeting him in person," said Bhatt, who began attending Berkshire's annual meetings as an undergraduate. "I hope that this opportunity continues so that future CSUF students will have the opportunity that we had."
"The visit gives students the highly valued opportunity to ask questions of one of the most famous, successful and forward-thinking American investors in the history of the United States. His insights are priceless and highly sought after by many here and globally," said Joseph F. Greco, lecturer in finance who traveled to Omaha with the CSUF contingent. "Meeting Warren Buffet was the equivalent, politically, of meeting a former and successful American president. Each has made history in their lifetimes, and the insights and lessons-learned that they may share in such a meeting are priceless."
The daylong program began with the students taking a tour of the Nebraska Furniture Mart, known as the nation's largest home-furnishings store, which was purchased through a handshake and two-page written agreement between Buffett and founder Rose Gorelick Blumkin in 1983. Following the tour, they made their way to Kiewit Plaza, where the Titans joined students from such institutions as the University of Michigan, Cornell University, Texas Christian and William Paterson universities at the Q-and-A session.
"As we were all eagerly waiting, Warren Buffett simply strolled in through the back of the room with no escort and no introduction," said Neda Ghafourian. "Buffett answered the questions with such grace that you felt as though he was directly speaking to you. I could just feel inspiration running through me. His passion for business was contagious, and everyone couldn't stop talking about his responses."
"You could not find a warmer person in the cold winter of Omaha," said John Kissling. "Listening to his optimism about the future was very refreshing given the negativity and concerns of present day. His testament to the capitalist system was given with unbreakable confidence. The most important main message I took from Mr. Buffet, which I think applies to everyone, was to follow your passion, no matter what."
"Whenever asked who is the one person you would like to meet, my answer has always been Warren Buffett," said Andrew Cavish. "He is an extremely kind, well-informed and humorous individual. I will always remember the day that I met Warren Buffet, and I will use the lessons I learned from him to succeed in my future endeavors."
"He is such an important economic icon, and his inspiring philosophical views are almost nonexistent in today's society, which is a characteristic I greatly admire," said Elizabeth Garcia. "Buffett is definitely an incredible investor and business owner who prides himself on integrity and passion for his career, which is what led to such success."
"In the future, I will take what I learned about Mr. Buffett's ethics, decision-making process and employee qualities and apply it to my current and future workplace, classroom, and any mentor or mentee program I participate in," added Garcia.