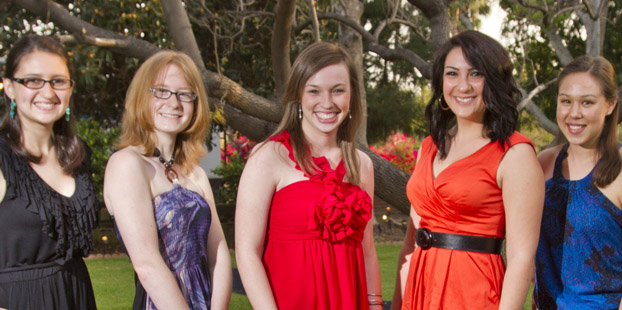 Caption: Graduating President's Scholars, from left, are Brittany Menchaca, Jeanette Chadwick, Ashley Davis, Eleni Christodulelis and Melanie Yamabe. Not pictured are Lanae King and Angelica Torrez. Photo: Matt Gush Download Photo
Class of 2012 President's Scholars
Scholarship Program Provides Foundation for Academic Success
May 15, 2012
Seven of Cal State Fullerton's most academically accomplished students will be among the 2012 graduating class at this weekend's commencement ceremonies. These distinguished students — coincidentally all women — are President's Scholars who have achieved high marks for academic work, leadership and community service activities.
The President's Scholars program provides a foundation for students to develop and realize their potential for academic, personal and professional success, said Deanna Merino-Contino, program director.
"The program helps these bright minds to further develop the confidence and skills to become effective leaders, collaborative partners and role models," Merino-Contino added. "President's Scholars instills in students a sense of citizenship and commitment, inspiring them to reach out to others through service and mentorship. Most importantly, these scholars are making a difference on campus, and in our communities, and encouraging others along the way."
The merit-based program, established in 1979, is supported primarily through donations from individuals in the community and on campus, most of whom having been donors for many years, Merino-Contino said.
Scholars are selected each year from a pool of applicants from across the state and receive scholarships that cover tuition fees, book allowance and other benefits. Currently, 65 students are in the program, with 17 new scholars, including three veterans, joining the program in the fall.
Some of the achievements of this year's graduating scholars include:
Two scholars had their own photography business while keeping up with demanding coursework;
Two scholars had the opportunity to study abroad in Spain and South Africa;
Another scholar gained invaluable experience as an athletic trainer for the Titan sports teams; and
Others have led campus clubs and organizations, taught summer children's theater, and volunteered at local organizations, such as Latino Health Access and Vietnamese Health Clinic.
The Class of 2012 President's Scholars, their hometowns and majors, are:
Jeanette Chadwick, Littlerock (Antelope Valley), Calif., B.A. theatre arts, cum laude
Chadwick worked on theater and dance productions as a technician, technical director and stage manager. She was involved with campus clubs — such as the Theatre Professionals of Tomorrow — and in community organizations, taught Sunday school, served as drama director for church theater productions and led a young adult ministry. Chadwick wants to work in entertainment in the cruise line industry and pursue a master's degree to teach theater.
Eleni Christodulelis, Arcadia, B.A. Spanish, summa cum laude
Christodulelis is a member of the National Society of Collegiate Scholars, Sigma Delta Pi and Phi Beta Delta. She has conducted and presented research in Hispanic linguistics, focusing on the impact of Spanish-English bilingualism on Spanish verb tense selection. She begins graduate studies at Ohio State University this fall and plans to pursue a doctorate to become a university professor.
Ashley Davis, Brea, B.A. communications, summa cum laude
Davis, a Texas native who moved to Orange County six years ago, studied visual communications and opened her own wedding photography business. After graduation, she plans to continue operating her photography business with her husband.
Lanae King, Oceanside, B.A. communications, cum laude
King operated a photography business while in college and worked as a nanny, camp counselor, student assistant in science education and freelance photographer. She provided photography for the motion picture "To Save a Life." She plans to attend graduate school to study fine arts and wants to teach at the university level.
Brittany Menchaca, Compton, B.S. athletic training, cum laude
While in the Athletic Training Education Program, Menchaca worked with a number of CSUF athletic teams, including the women's basketball. She is planning to take the exam to become a certified athletic trainer and pursue a career in high school athletics or physical therapy practice.
Angelica Torrez, Pixley, Calif., B.S. health science, summa cum laude
Actively involved in the community educating others about vital health issues, Torrez also volunteered at the Easter Seals Senior Day Care, Latino Health Access, North Orange Health Care Clinic and Anaheim Regional Medical Center. She plans to pursue a master's degree in nursing at Cal State Fullerton.
Melanie Yamabe, Santa Clarita, B.A. business administration-accounting, summa cum laude
Yamabe was on the gymnastics team during her freshman and sophomore years and served as meet director during her junior year. She is an English tutor and is involved in the President's Scholar Student Association, Volunteer & Service Center and Accounting Society. She will pursue becoming a certified public accountant for a career as an auditor.