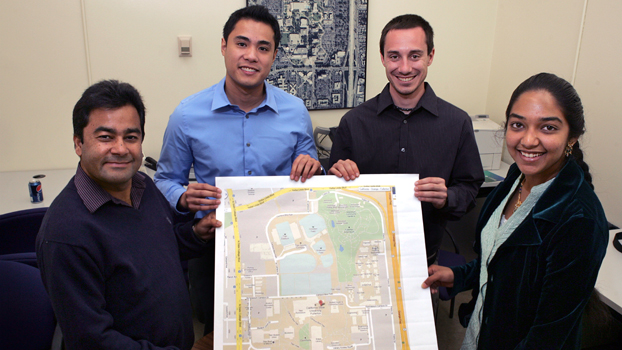 Caption: Binod Tiwari, from left, assistant professor of civil and environmental engineering, and his students Mark Principe, Adam Lewis and Beena Ajmera show off the new and improved Google Map of Cal State Fullerton. The team garnered third place in the Google Map contest that challenged college students to upgrade their institutions' campus maps. Photo: Karen Tapia Download Photo
Campus Map Makeover
Engineering Team Wins Third in Google Map Contest
May 7, 2012
Three civil engineering majors have put Cal State Fullerton on the map — on the Google Map, that is — in a new and improved way.
For their combined efforts, graduate students Adam Lewis and Beena Ajmera and senior Mark Principe won a third-place award in the "Google Map Maker University Mapping Contest" for their campus map makeover. The competition challenged university students across the country and Canada to enhance their institutions' campus maps.
Using Google Map Maker, a Web-based mapping software, they put their surveying and mapping skills to the test, adding campus details — from the most obscure to the most obvious — to the Google Map.
Their adviser, Binod Tiwari, assistant professor of civil and environmental engineering, said participating in the competition helped to boost his students' self-confidence in their engineering skills and gave them a sense of pride. Placing in the contest also created broader awareness about the university.
"Millions of people use Google Maps, and now, anyone looking for the map of Cal State Fullerton gets a better, high quality and more detailed Google Map," Tiwari said. "I'm very proud of my students."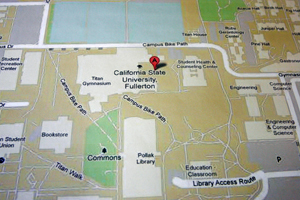 Caption: Image of a Google Map showing Cal State Fullerton.
For the contest, the students started with the university's existing Google Map and added new details and the latest campus information.
In the process the students put names on buildings and colleges, added bike racks and paths, roads and walkways and lakes at the Fullerton Arboretum. They identified parking lots for faculty, staff and students and parking permit kiosks, and highlighted the new student housing complex, including the Gastronome and residence halls. The Children's Center, shipping and receiving area, Golleher Alumni House, Titan Shops, Pollak Library, electric vehicle charging station locations and major off-campus businesses frequented by students, are now pinpointed on the Google Map.
However, the students were not provided with Google access to correct or modify any errors in the original Google Map of the university, Tiwari said. The students are now working with Google to correct those errors, he added.
To update the map, the students used College of Engineering and Computer Science surveying lab equipment — such as GPS devices — aerial photographs, along with self-guided tours around campus.
"Working on the map was interesting. There were some details that we didn't even know existed in certain locations," said Lewis, a Fullerton resident who plans to complete the course work for his master of science degree in civil engineering in December. "Overall, we tried to view the map as a guide for newcomers and create an easy-to-follow map to improve their visit to the campus."
Principe of Orange, who is slated to graduate this spring, added: "I've been at the university for five years, and it was nice seeing the different parts of the campus that I've never had the opportunity to see."
While the project was time consuming, the outcome was worth it, the students agreed. The competition helped improve their communication, team-building and time-management skills — all of which are necessary in the engineering discipline, they said.
"For me, I enjoyed knowing that what I was learning could be directly applied to something as useful as Google Maps. Nowadays, we tend to use Google Maps with every task since it is so readily available on mobile phones and devices," said Ajmera of Ontario, who earned her bachelor's degree last May with a double major in civil engineering and mathematics, and will finish her graduate degree this month. "Even though we had busy schedules, it was fun getting together with a team with a common purpose of updating and making the campus map better."
Garnering a top award in the competition will be useful to these soon-to-be-graduates as they seek jobs in their respective careers.
"Having the ability to state that we competed and placed in a Google Map competition on our resumes will show that we can take knowledge learned through course work and utilize it in a professional setting," Lewis said.