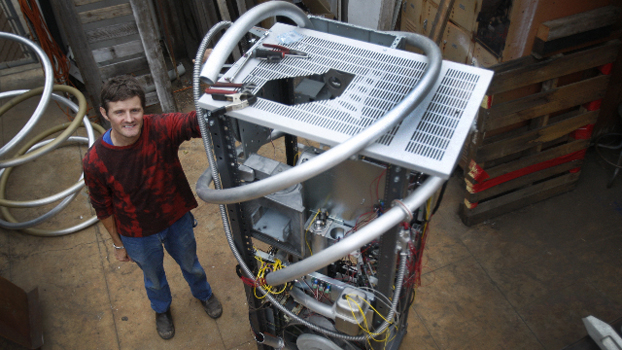 Caption: Grad art major Mark Upson's computer-driven kinetic sculpture "is designed to become more active when more people are within its range." Photo: Karen Tapia Download 

Caption:
It's All About Convergence
Competition Sponsored by Emulex Engages Artists
May 15, 2012| Updated May 23, 2012
Update: Winners announced.
Art professor Jim Jenkins is walking around the university's sculpture studio, chatting with students about their projects on a recent Tuesday afternoon in his advanced sculpture class, where imaginations are in overdrive.
Caption: Senior art major Terra Hamby at work on her double helix-infused sculpture. Photo: Karen Tapia Download
VIEW more photos on Flickr
As the spring semester winds down, his students have been revving up, in a sprint to complete the sculptures they've envisioned — some as high as 7 feet tall —  for a contest sponsored by Emulex that is designed to tap their imaginations and talents.
Cash prizes and recognition are on the line for these artists, who are executing their own personal vision of convergence.
The challenge: use discarded IT equipment provided by the Costa Mesa-based company to "create a sculpture that represents the concept of 'convergence' in the data center."
That challenge has spawned at least one superhero, a time machine, a kinetic sculpture festooned with dozens of moving parts, and another that takes the form of a human spine at its metal core, plus a few wired inspirations from nature.
Studio Scenes
Motors and drills are whirring as student artists, seemingly oblivious to the noises around them, focus quietly on their pieces and engage in small talk across workbenches strewn with parts of their sculptures in progress.
You Can Vote
Like Emulex on Facebook, watch the artists' videos, look over their sculptures, then choose your favorite to help select the winner of the People's Choice Award. 
Senior art major Ty Curry is standing at a workbench, one hand above a take-out container of Chinese food, while the other is plunged into a metal bucket filled with a purple gel to form a mold around his hand.
This may be Curry's first sculpture class, but the 3-D design courses he's taken in earlier semesters have prepared him well for the contest, he believes. "I like challenges, so I feel drawn to it."
His plans call for incorporating a projector in his "very humanoid" sculpture.
"Technology is just another way of sharing ideas," he said, reflecting on the contest theme and his own design formulation. "It all comes back to the human, for the sake of the human. ... I wanted to show things we already knew, but hadn't really thought of in that way."
Donny Alvarado, who chose sculpture for his concentration in the art major, sees parallels to and gets inspiration from the works of artist Jackson Pollock.
"What the computer world is going through now, is like what the art world was going through during the abstract expressionist movement," said Alvarado, who chose a circuit board for his canvas.
"Competition brings out the best in all of us," he said. "Regardless of if you win or lose, we all win one way or another for the sheer experience."
Make It Work
Throughout the afternoon, meanwhile, professor Jenkins is consulted by students about materials and compounds, sketches and concepts.
Emulex approached Jenkins with the idea of staging a contest among his students to create a sculpture to display in Emulex lobbies across the globe. Corporate representatives visited the class soon after the spring semester began to outline the contest parameters and talk about the company.
"At Emulex, we're committed to being an active and positive force in Orange County. And, the 'Art of Convergence' program represents what we at Emulex are passionate about — fostering education in sciences, mathematics, engineering and the arts, because the students of today will become the engineers, technologists and innovators of our future," said Jim McCluney, Emulex CEO.
Emulex gave each of the 24 contestants a $500 debit card for the purchase of supplies and tools, along with the raw materials to bring their sculptures to life — a truckload of surplus equipment and computer parts delivered to campus in February. Everything from working computers and projectors to discarded hard drives, computer chips, circuit boards, wiring and metal rods were deposited onto the floor of the foundry adjacent to the studio for the students to rummage through and carry away.
"It was like a scene from Project Runway," one student recalled about the day the truck arrived, referencing a hit cable TV show about design contestants who dart around a warehouse picking up fabric, notions and accessories for the fashions they create from scratch.
Art major Terry Hamby filled her locker in the art studio with discarded parts.
"I've learned a lot about what's inside a computer," she said about the contest, which also led to her introduction to welding and the virtues of a plasma cutter.
Along the way, she found that "cuts and burns come with the job," she said matter-of-factly.
Nature and Technology
Her concept involving a double helix, "how technology has aided life and sustained life" is conveyed in the tree she created, fashioning birds from keyboard letters affixed with clay to tree branches of wrapped wire. She even harvested parts from a broken TV that had been left out in the rain.
"My idea came as I broke things apart and saw what was there," said Hamby, who is inclined to "let the art make itself."
She added with a smile: "This is completely out of my level of comfort."
That sentiment was expressed by other artists, equally gung-ho about the opportunity to branch out into new directions afforded by the contest.
For others, like communications major Ryan Kidder, who is pursuing a minor in art-graphic design, the project process trod familiar territory, writ larger.
"I love building things," he said, showing snapshots saved on his smartphone of his sculpture-in-progress at home. "Ever since I was a kid, when I made costumes out of anything that I could."
Kidder is among the participants who kept their sculptures under wraps at off-site locations throughout the semester and spent "every spare moment I have" working on their creations.
All the artists eventually reveal their sculptures in explanatory videos that accompany their pieces as a part of the competition submission.
The convergence of man and technology is displayed in Kidder's sculpture of a giant head, one side covered in computer parts, the other by a design he's created on the computer.
"The right brain is more creative," he explains of the two-sided nature of the sculpture that his mom has nicknamed 'Chip.'
The head features a working video screen for an eye and parts of the brain emerging from the top, plus an Emulex logo he created. Three boxes of fiber optic cable form roots at the base and are the conduit for transporting colorful fluids through tubes built into the piece.
"I've learned a lot about electronics," Kidder said, admitting that some of that newfound knowledge came after he "blew up a few fans."
New Skills
Art major Stevi Kuhn is another artist who kept her design a secret and also learned to weld during the course of the semester to create her sculpture — a 7-foot superhero "made of steel and covered with circuits" and with a globe for a head. When she heard about the contest, "I got really excited, especially since we're the only school and class involved."
Thinking about how the company's products transmit information through light, Kuhn cut, tied and attached 3,000 yards of wire conduit to her sculpture to convey how "Emulex makes the world light up."
She made a mental note of the fact that the sculpture would be traveling around, including to conventions. "I wanted to create something very eye-catching, to draw people in."
While studying for her degree, she has been working as a graphic designer for ASI. "I love my job," which has involved creating ads and promotional materials for the food court, Titan Bookstore and the Student Recreation Center, she said.
As for the contest, she said, "I feel privileged to have been a part of something so big."
Patio Wizard
The kinetic sculpture graduate art major Mark Upson created is so tall, he's been working on it on the patio of the sculpture studio.
At 7 feet high, it incorporates hundreds of computer parts, including hard drives, motors and fans within the framework of a server tower he snagged from the donated truckload of materials. The sculpture is also powered by a computer and has a pneumatic arm.
Bringing a "Wizard of Oz" sensibility to what he's dubbed "The Convergence Machine," Upson offered: "It's as if you've parted the curtain and are able to see the mystery behind art."
His sculpture "seeks to indirectly engage people by identifying their heat signatures using passive infrared sensors," Upson explained. "When a sensor detects a change in temperature, it sends a signal to one of three circuit boards activing a compenent within this machine, pushing or pulling, spinning or turning various parts to the sculpture itself."
Upson moved from New England to the Southland to study with Jenkins, in the pursuit of his M.F.A. in art-sculpture. "What's been really fun for me has been working with the other people a lot."
That's, in part, what has fueled the excitement of the competition for senior art major Jessica Youngs, who is graduating this month. "I'm so excited to see everybody else's," she said. "People have had these amazing ideas."
When the truck arrived from Emulex, she laid claim to the other server tower for her sculpture. "I knew from the second I saw it, that it was going to be a time machine."
Youngs' video tour of her sculpture tells the story.
Art of Convergence
Art major Jose Mojarro spends his days teaching art to kids at a private school in Irvine and used to teach computer classes to elementary school children elsewhere, so the contest's "art of convergence" theme seemed like a natural to him.
"We are the technology," he said, opting to sculpt a figure made of aluminum. In contemplating his design, Mojarro thought about "how technology is incorporated into daily rituals."
He was drawn to the recycled materials aspect of contest. Yet, early on when "you don't know what you're making," looking at the vast truckload of materials on the foundry floor was "kind of overwhelming."
In the end, he chose various computer parts to represent parts of the human body: a hard drive for the brain, fan for the respiratory system, bendable metal rod for the spine, etc.
Expressing a near-universal feeling of appreciation held by the participants, he said the debit card provided by Emulex made the contest all the more appealing. "It frees you up to get the work done, rather than finding the money to do the work."
Now in the final days of her last semester before graduating with a degree in art-drawing and painting, Rebecca Lipnisky says she inadvertently "picked the perfect semester to be here."
She had tried two previous times to enroll in Jenkins' course and finally got in. The Emulex contest made the timing ideal. "It's awesome to be part of it," she said. "Thank my lucky stars."