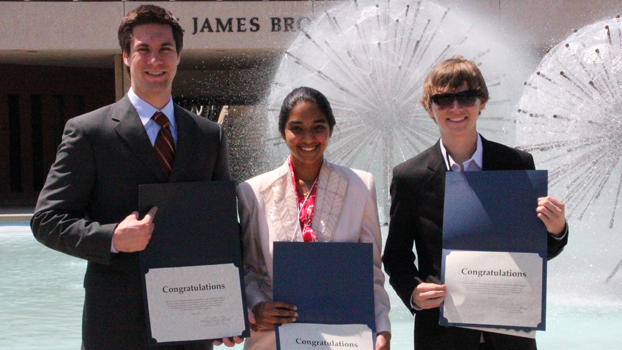 Caption: Engineering majors Richard Hastings, from left, Beena Ajmera and Alexander Lemmon brought home a first- and two second-place awards from the 26th annual CSU Student Research Competition. Download Photo
A First and Two Second Places
Engineering Students Bring Honors Home From CSU Research Competition
May 15, 2012
Three engineering majors have brought home a first- and two second-place awards from the 26th annual CSU Student Research Competition at Cal State Long Beach.
Richard Hastings of Brea took first place in the undergraduate engineering and computer science category for "Reduction in the Impact of Earthquake Ground Motion Utilizing Soil Replacement Method," followed by Alexander Lemmon of Irvine, who took second place in the same category for "Application of Recycled Material in Construction Application."
Graduate student Beena Ajmera became a two-time winner, earning a second-place finish in the graduate engineering and computer science category for "Influence of Saline Water on the Fully Softened Shear Strength of Soft Clays." The Ontario resident took first in the undergraduate category last year for "Estimation of Fully Softened Shear Strength With Index Properties."
"The competition allowed us, as student researchers, to present our work to others in a way that would be similar to professional/academic conferences that we might hope to be presenting at some day," said Hastings, who plans to complete work for his  bachelor's degree in December. "Competing at the statewide competition will be helpful in my future studies and career some day, because the research I conducted interested me in pursuing a master's degree in geotechnical engineering here at Fullerton and continuing my research.
"I would tell other students it is a great experience and one they should pursue to participate in," Hastings added. "Getting involved in research, while at times demanding ... allows you to obtain a deeper understanding of a subject, one that is difficult to get just simply attending classroom lectures."
"My experience was extremely rewarding," said Lemmon. "I expected the competition to feature a few schools with only several research disciplines. I was amazed to discover over 250 students from every California State University, with 10 different categories, each with an undergraduate and graduate session.
"The competition has increased my confidence with public speaking and conducting research," Lemmon added. "Since the competition, I have been awarded two research scholarships [Eisenhower Fellowship and Louis Stokes Alliance for Minority Participation Scholarship], which enable me to conduct further research over the next year. I intend on competing again in the CSU Research Competition next year as a graduate student."
Ajmera, who will be working toward her doctorate at Virgina Polytechnic Institute and State University this fall, agreed. "My first time winning the CSU Student Research Competition was one of the motivating factors for me to continue my research and pursue a master's degree in geotechnical engineering.
"Winning the competition this year shows me that the research I am doing continues to interest people and that I have something to offer the engineering community."
"I am very proud of my students. They put a lot of effort in finishing their research and compiling the data for presentation. Their hard work has met with amazing success," said Binod Tiwari, assistant professor of civil and environmental engineering, who advised all three scholars. "I believe that these award-winning students will be motivated to do even better in the future and their wins will encourage other students to get involved in quality research works in the university."