Monitoring Air Bubbles in Plants
National Science Foundation Grant Provides $800,000 for Plant Research
Feb. 29, 2012
In the Biology Department greenhouse, student Sarah Taylor has worked countless hours monitoring the flow of water day and night on Malosma laurina shrubs, commonly known as laurel sumac, a native chaparral shrub. Taylor is one of the student researchers working with H. Jochen Schenk, using potted plants that have several sensor monitors attached to their branches to collect data on the water moving through the plant's hydraulic system.

That data will give the associate professor of biological science and the student researchers more insight into the dynamics of air bubbles in the system that carries water from roots to leaves.
The work of Schenk and his team is being underwritten by a $800,000 National Science Foundation grant, announced earlier this month.
Plants that develop air bubbles in their hydraulic system don't get enough water. Severe cases can lead to the death of roots, branches or the whole plant, explained Schenk, a plant biologist and faculty member since 2002.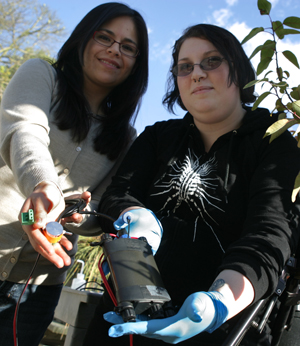 Caption: Susana Espino, left, and Sarah Taylor display a sensor to monitor air bubbles in a plant. Photo: Karen Tapia Download
While his study may seem peculiar to some, trying to unlock the air bubble mystery makes sense. "I know it sounds funny, but if you think about it, it becomes a pretty obvious problem when air bubbles block the transport of water, and plants don't get enough water. And, it is by no means clear what plants can do to get rid of those bubbles."
That is what Schenk; Susana Espino, senior research associate in the Biological Science Department; and the team of undergraduate, graduate and international researchers, hope to figure out.

The study is being conducted in collaboration with Steven Jansen, a researcher in wood and stem anatomy at Ulm University in Germany, and Kathy Steppe, an expert in plant physiology and irrigation at Ghent University in Belgium. Jansen will analyze the anatomy of plants in the study to determine the structures required to remove air bubbles; Steppe will develop a computerized model of plant physiology to simulate the bubble-removal process and predict effects of watering.

Schenk's three-year research project will focus on 18 plant species, ranging from grasses to conifers, such as pine trees, to horticulture species like rhododendrons, as well as agricultural crops, including wheat and tomatoes.

"We're trying to look at many different plants to figure out what type of anatomy and physiology it takes to remove air bubbles in a plant," Schenk said.
Research Relevance
"We're very dependent on plants for our food; animals also depend on plants to live. Just as important is the need to understand how much, and how often, plants need water," said Schenk. "Many plant species are economically important crops, horticulture and timber species, therefore, insights into mechanisms of embolism repair will lead to a better understanding of drought-tolerance in these plants."
The plants being studied are found not only inside the campus greenhouse — which serves as an extension of Schenk's "Plants & H2O" lab — but locally in Black Star Canyon and the San Gabriel Mountains, and as far way as northern Texas, Georgia and North Carolina. The sensor monitoring system Schenk developed in the greenhouse experiment will be deployed to all species in the study.

"We'll be able to examine air bubbles in plants in the field by placing these sensors on them, so we won't have to cut plants or take them back to the lab," he said.

Another important aspect of the research is the experiences students will receive in different labs and in fieldwork, as well as exposure to scientific ideas, Schenk noted. 

While Schenk designed the plant sensor system, Taylor, a biological science major who plans to graduate in May, has been in charge of making it work and testing it as part of her senior research project. She will present her work at student conferences this spring and hopes to get her research published in a scientific journal.

Biological science graduate student Donald Quick, a local high school science teacher, also is working on the project for his master's thesis.

Espino, an alumna with both a bachelor's in biological science and master's degree in biology, said they are all excited to be involved in Schenk's air bubbles research. "This is cutting-edge plant science. What we do could be groundbreaking."