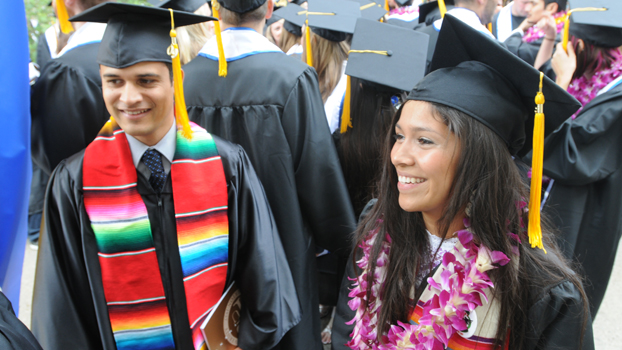 Caption:Cal State Fullerton's graduating classes are being bolstered by a growing number of Hispanics, including Carmen J. Cortez, right, Class of 2009. She earned a B.S. in biological science, a $101,500 National Science Foundation fellowship and a full scholarship to UC Davis. Photo: Kelly Lacefield Download Photo
First in the State, Fourth in the Nation
Cal State Fullerton Among Leaders in Graduating Hispanics
May 9, 2012 :: No. 175
Cal State Fullerton has moved up to fourth in the nation and continues to be first in the state for the number of bachelor's degrees awarded to Hispanic students, as reported in this week's issue of Hispanic Outlook in Higher Education.
Last year, Cal State Fullerton held the top spot in the state and was fifth nationally.
The annual rankings published in the magazine's "Top 100 Colleges for Hispanics" are based on 2010-11 data from the U.S. Department of Education's Integrated Postsecondary Education Data System.
During that period at CSUF, 1,924 Hispanics earned bachelor's degrees, 228 earned master's degrees, and one graduated with a doctorate in education. The magazine ranks Cal State Fullerton 24th in the nation for the number of master's degrees awarded to Hispanics.
For bachelor's degrees awarded to Hispanics in specific majors, Cal State Fullerton nationally ranks:
first in communications and journalism
first in public administration and social service
fifth in business management marketing
fifth in education
fifth in parks, recreation, leisure and fitness studies
sixth in homeland security and related protective services
seventh in health professions and related programs
tenth in foreign languages, literatures and linguistics
tenth in psychology
Overall, Hispanics constitute 32 percent of Cal State Fullerton's student body of more than 36,000 enrolled in the fall. The U.S. Department of Education has designated the university as a Hispanic-Serving Institution, a designation tied to the university's student population, making the institution eligible for federal funding targeted to expanding educational opportunities for Hispanic students and improving their graduation rate.
Media Contact:           Pamela McLaren, 657-278-4852, pmclaren@fullerton.edu