Robitaille Chair in Risk and Insurance Named
Nationally Recognized Scholar Joins Cal State Fullerton
Aug. 22, 2011 :: No. 6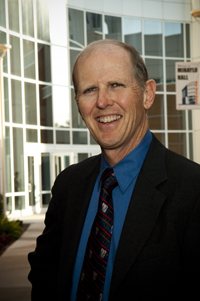 Caption: Stephen P. D'Arcy Download photo
Cal State Fullerton's Mihaylo College of Business and Economics has named Stephen P. D'Arcy of the University of Illinois at Urbana-Champaign as the first to be accorded the title Robitaille Chair in Risk and Insurance.
The endowed chair is the second for both the university and Mihaylo College and stems from a fundraising drive launched by the CSUF Center for Insurance Studies. Frank Robitaille, past president of independent insurance agency Armstrong/Robitaille/Riegle, is the largest contributor to the center's ongoing program campaign with a donation of nearly $2 million.
"My wife and I are products of an affordable, quality public education here in California," said Robitaille. "We wanted to give back and support the Center for Insurance Studies at Cal State Fullerton. With nearly 1,000 students enrolled in its insurance classes, Mihaylo College of Business and Economics is the largest insurance program west of the Mississippi. Our hope is that other insurance people, who have benefited so greatly from the industry, will join us in making CSUF the best insurance school in the nation."
"The creation of this endowed chair position highlights the quality of our insurance and business programs, as well as support of industry," said Anil Puri, dean of Mihaylo College. "Frank Robitaille has been an enthusiastic champion of the program, and we are grateful for his generosity to Cal State Fullerton and his commitment to education."
In addition to teaching and conducting research, D'Arcy will serve "a critical position in the continuing development of our program," said Weili Lu, director of the Center for Insurance Studies and a former student of the nationally recognized expert in actuary and risk management. "He will lead our program to a higher level of research and help develop cutting-edge courses — like the 'Enterprise Risk Management' course he has already been teaching on our campus — that will help our students meet the needs of the business world."
D'Arcy has served as professor of finance at the University of Illinois for 37 years teaching courses on corporate finance, property-liability insurance, managing financial risk for insurers and enterprise risk management. His research interests include enterprise risk management, financial modeling, dynamic financial analysis, financial pricing models for property-liability insurers, catastrophe insurance futures, public pension funding and insurance regulation.
While at the University of Illinois, D'Arcy developed online programs in enterprise and financial risk management, established its China Executive Leadership Program and led Casualty Actuarial Society seminars.
He has been a fellow of the Casualty Actuarial Society since 1975 and a member of the American Academy of Actuaries since 1978.
As a consulting actuary, D'Arcy has worked with the Automobile Insurers Bureau of Massachusetts and the North Carolina Department of Insurance. He is founder and the principal of D'Arcy Risk Consulting Inc., a firm specializing in education, measurement and management of risk for organizations and individuals.
"It is an honor to be associated with Cal State Fullerton, Mihaylo College of Business and Economics and the Center for Insurance Studies," said D'Arcy. "This is the largest risk management program on the West Coast and one of the most innovative anywhere in the country.
"The risk management faculty and program at CSUF are outstanding, the administrative support is strong, and the insurance industry has been extremely supportive and generous — most notably, Frank Robitaille, who has demonstrated his commitment to the program through his support," he added.
D'Arcy earned his doctorate in finance from the University of Illinois and holds a bachelor's degree in applied mathematics from Harvard.