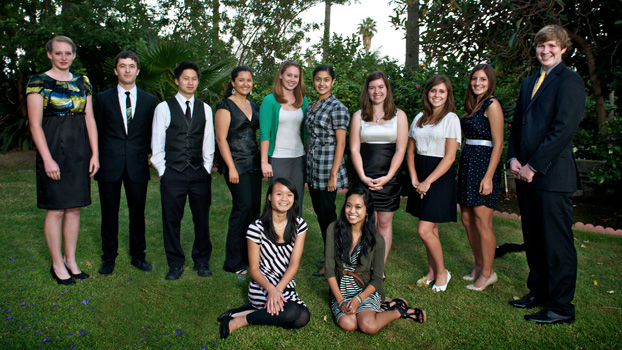 Caption: The 2011-12 incoming President's Scholars are, from left, standing: Hannah Martin, Ron McGill, Jason Khoo, Leah Espinoza, Cynthia Washicko, Neha Ansari, Victoria Gould, Coral Roseberry, Hannah Conforti and Rogue Rotkosky; seated: Linda Hoang and Janelle Gumayagay. Not pictured are: Jacob Gomez, Petar Bahnev and Allison Fukano. Photo by Robert TranDownload Photo
Entering on a High Note
Incoming Class of President's Scholars Announced
Aug. 9, 2011 :: No. 3
This month, a dozen of the region's best-and-brightest graduating high school seniors will start classes at Cal State Fullerton as President's Scholars — the most prestigious status the university accords to incoming students.
Joining them are three military veterans, who have shown they have the right stuff academically. They are Jacob Gomez of Salinas, a psychology major who served in the U.S. Navy; Ron McGill of Irvine, a veteran of the U.S. Air Force seeking a bachelor's degree in communicative disorders; and Navy veteran Petar Bahnev of Huntington Beach, who will major in communications.
Fall classes begin Saturday, Aug. 20.
"We are pleased that we are able to offer this educational opportunity to three who have served in our military," said Deanna Merino-Contino, director of the President's Scholars program. "We look forward to the contributions they can make in our program."
"As the oldest program of its kind in the California State University system, we have been cultivating tomorrow's leaders for more than 30 years," said President Milton A. Gordon. "Our program provides a foundation for high-achieving students — now including those who have served their country — to develop and realize their potential for success as scholars, leaders and citizens."
The veterans, like all other scholars, are distinguished in their academic achievement and underwent the same screening process as their fellow President's Scholars, said Merino-Contino.
Previously, eligibility for the President's Scholars was exclusive to freshmen. Because many academically high-achieving veterans begin their college careers at community colleges, the program has expanded its eligibility requirements to welcome veterans who are transfer students.
President's Scholars receive a full scholarship that covers all tuition fees up to four years, plus a $750 annual stipend for textbooks and the loan of a laptop computer. The scholars, in turn, must be enrolled full time, maintain a 3.5 GPA, and contribute to university and community activities.
All scholars are granted automatic admission to the University Honors Program, priority registration, complimentary parking permits and consideration for on-campus housing. They also have opportunities to attend special seminars and meet periodically with the university president.
Media
Contact:  Pamela McLaren, Public Affairs, 657-278-4852 or pmclaren@fullerton.edu