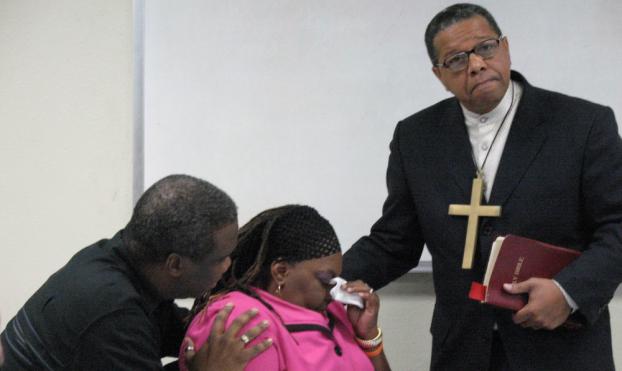 Caption: Members of African-American Living Room Group performing Austin Nation's play "We're All God's Children."
Celebrating Martin Luther King Jr.
CSUF Marks Holiday With AIDS Awareness Play, Speakers, Breakfast
Jan. 10, 1011 :: No. 65
What:
The Rev. Dr. Martin Luther King, Jr. Diversity Breakfast with the theme "Where Do We Go From Here" will be held Jan. 15 at Cal State Fullerton. The event is open to the public and will feature motivational speakers and a short play about HIV/AIDS prevention.
When:
Saturday, Jan. 15,
8 a.m.-1 p.m.
Where:
Portola Pavilion, Titan Student Union, Cal State Fullerton
800 N. State College Blvd., Fullerton 92834
Parking information:
http://parking.fullerton.edu/Parking/ParkingLots.aspx
Who:
The keynote address will be delivered by Bishop James D. Carrington of Friendship Baptist Church. Also speaking will be Lacy Kelly, executive director of the Orange County Division of the League of California Cities.
Sponsor:
African-American chapter of the Cal State Fullerton Alumni Association
More:
The 20-minute play to be performed, "We're All God's Children," was written by alumnus Austin Nation, a graduate nursing student. He and the actors in the production are part of the African-American Living Room Group. 
The play "examines the ongoing struggle and controversial relationship between the church and people living with HIV/AIDS, particularly women and communities of color," Nation said. "In three acts, the play compares the responses by the church when dealing with a person with cancer, a married man who tests HIV positive after sleeping around with both men and women and in the third act, the innocent woman whose husband, from Act 2, infected her with the HIV virus."
The play asks how churches and those infected with HIV/AIDS can come together without prejudice, condemnation, judgment or the need to convert, Nation said.
Cost:
$5-$20 per person 
Info/Registration:
657-278-4487, www.fullerton.edu/alumni/aac