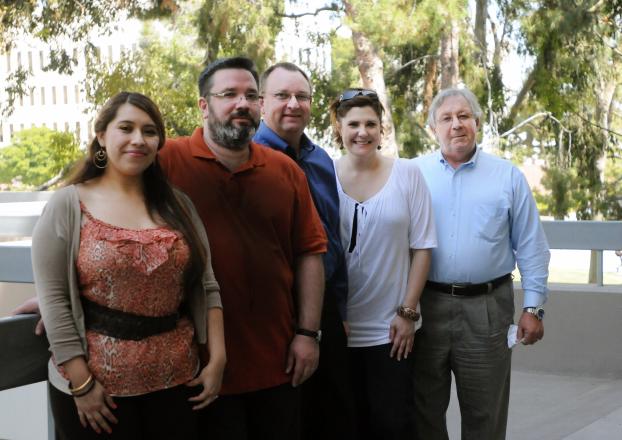 Caption: From left: M.S.W. students Dorothy Perez and David McKinnis; Sean Hogan and Caroline Bailey, assistant professors of social work; and David Cherin, chair and professor of social work. Photo by Mimi Ko CruzDownload Photo
Stamp of Approval
Fledgling Social Work Program Earns National Accreditation
April 19, 2011 :: No. 122
Cal State Fullerton's fledgling master of social work program has received national accreditation from the Council on Social Work Education.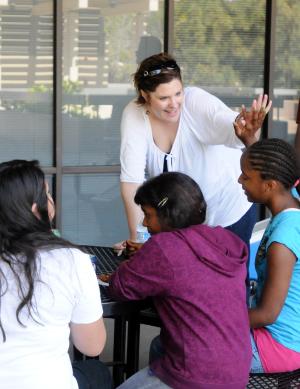 Caption: Caroline Bailey, assistant professor of social work, gives a high-five to a middle school student who recently toured the campus. Photo by Mimi Ko CruzDownload Photo
"This is national accreditation that takes four years to gain initially," said David Cherin, chair and professor of social work. "We received the maximum amount of time — four years — given to new programs and we did it in the shortest amount of time allowed. We now are among only 208 accredited master of social work programs in the country."
He said receiving such a stamp of approval from the accreditation agency is the highest endorsement of the university's M.S.W. program, which presently has 108 students.
"We are gaining a regional reputation for being a very solid program, producing well-prepared social workers," Cherin said. "Of our first two graduating cohorts, more than 80 percent are currently employed."
The M.S.W. program launched in 2007. Thirty-six students have graduated and another 41 are set to complete the program in May as the third graduating class, he said.
The 60-unit graduate program includes 1,000 hours of fieldwork, and full-time students are expected to complete the program in two years. The university began offering the program to part-time students last year.
Fourteen faculty members teach in the program, which places students in internships at Orange and Los Angeles counties' social-service agencies, as well as nonprofit agencies.
Alumnus Daniel McKinnis (B.A. psychology '10) called the program "incredible." He is set to complete his M.S.W. degree next year.
"This program is so supportive and demanding at the same time," the 41-year-old former aerospace worker said. "I worked at my family's aerospace company for 20 years, but my heart wasn't in it."
McKinnis said that becoming a social worker is his true passion. "It's more fulfilling," he said.
As part of the curriculum, he and fellow classmate Dorothy Perez are working with Project HOPE, a nonprofit organization that helps homeless families. They recently led a group of homeless middle-school children on a campus tour as part of an eight-week lesson they devised to introduce the kids to higher education while boosting their self-esteem.
McKinnis and Perez also have been leading group sessions with the homeless children and their families as part of their internships.
They have "provided a lot of badly needed one-on-one support for the kids," said Diane Estill, Project HOPE's middle school teacher. "They are helping them with anger management, positive relationships and college awareness. Both Daniel and Dorothy have inspired their charges to desire higher education, and they've been really good role models. These kids struggle with heavy issues, including poverty and losing their parents, and Daniel and Dorothy have offered so much help."
Perez, 30, said being an M.S.W. student has been "challenging but very rewarding."
She characterized her professors as "approachable and always available" for their students.
"There is a big need for social workers, and I can see how just one person can make an impact on a whole family," she said. "I can't wait to graduate next year and start my career as a social worker. The rewards are really great."
Cherin said the M.S.W. program prepares students to:
Enhance the social functioning and the interactions of individuals, families, groups, organizations and communities by teaching strategies to involve targeted populations in accomplishing goals, developing resources, and preventing and alleviating distress.
Become change agents who will work effectively in increasingly complex, culturally and racially diverse communities.
Understand the impact of racism, sexism, homophobia and other forms of oppression in creating and maintaining barriers to effective participation in American society.
Understand the relationship of the economic, political and social systems to the state of poverty and oppression in American society.
More information is available about the program on the College of Health and Human Development's Master of Social Work website.