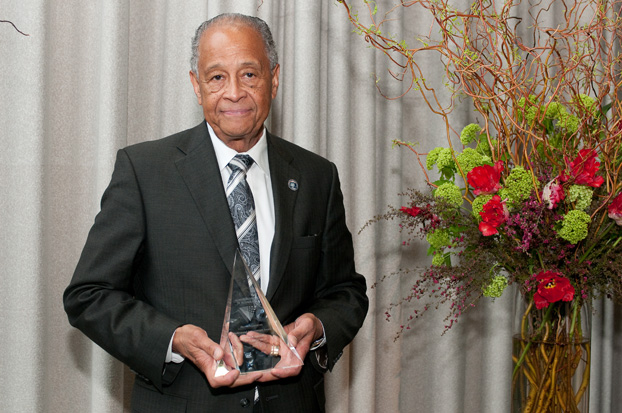 Caption: CSUF President Milton A. Gordon holds the 2011 Professional Achievement Award presented to him by his alma mater, the Illinois Institute of Technology, where he earned his doctorate in mathematics. The award was presented in honor of his "personal success, outstanding contributions in the field and recognition of his work" during the university's 2011 Alumni Awards Ceremony. Photo by Bonnie RobinsonDownload Photo
Career Excellence
CSUF President Recognized With Professional Achievement Award
April 27, 2011 :: No. 130
Cal State Fullerton President Milton A. Gordon has been recognized for his more than 40 years in mathematics by the institution that awarded him a doctorate in mathematics, the Illinois Institute of Technology.
Gordon's alma mater presented the Chicago native with the 2011 IIT Professional Achievement Award, in honor of Gordon's "personal success, outstanding contributions in the field and recognition for his work" during its 2011 Alumni Awards Ceremony held April 15.
"This year's winners have changed the way we live — whether revolutionizing the use of barcodes, improving access to higher education, or designing innovating buildings," said John L. Anderson, IIT president. "These winners add to IIT's rich history of visionaries who make us proud."
Prior to attending the Illinois Institute of Technology, Gordon earned his bachelor's degree in mathematics and secondary education from Xavier University and his master's degree in mathematics from the University of Detroit.
Before being appointed Cal State Fullerton's president, Gordon was vice president for academic affairs at Sonoma State University and professor of mathematics. He also served as dean of the College of the Arts and Sciences and professor of mathematics at Chicago State University, as well as director of the Afro-American Studies Program and associate professor of mathematics at Loyola University of Chicago.
During his nearly 21 years as president of Cal State Fullerton, the university's student population has grown by 10,000 and become more diverse. In the fall of 1990, the student body was 34 percent minority; more than two decades later, minorities constitute more than half of those enrolled.
In economic impact, Cal State Fullerton has been found to generate $1 billion in economic activity annually, sustain more than 8,700 jobs in the region and generate more than $65 million per year in state tax revenue. U.S. News & World Report ranks CSUF among the nation's top 10 public universities-regional universities (West).
Hispanic Outlook in Higher Education ranks CSUF first in California and fifth in the nation in its listing of the top 100 colleges and universities awarding bachelor's degrees to Latinos. In addition, Diverse Issues in Higher Education ranks CSUF fifth in the nation for bachelor's degrees awarded to minority students.
Gordon's many honors include: the 2010 President's Award of Excellence from the Hispanic Association of Colleges and Universities, 2010 Outstanding Service to Children and Community Award from the San Francisco Court Appointed Special Advocates, Chief Executive Officer Leadership Award from the Council for the Advancement and Support of Education, Cesar Chavez Community Service Award from the Hispanic Bar Association of Orange County, Manager of the Year Award from the Orange County Chapter of the Society of Advancement of Management and Orange County NAACP Citizens of Distinction Award.
Additional tributes are scheduled. On April 29, Gordon will be honored with the Cultural Diversity Award from St. Anselm's Cross-Cultural Community Center in Garden Grove, during the organization's 35th anniversary dinner. The 2011 Community Heroes Award will be presented to Gordon May 5 by the Orange County Asian and Pacific Islander Community Alliance, during its Evening of Cultural Celebration in Garden Grove.
# # #
Media Contacts:
Paula Selleck, Public Affairs, 657-278-4856, pselleck@fullerton.edu
Pamela McLaren, Public Affairs, 657-278-4852, pmclaren@fullerton.edu