Exploring Bilingual and Bicultural Issues
New Exhibit: 'Border Inspections' at Pollak Library
April 1, 2011 :: No. 107
Bilingual and bicultural issues affecting young people in the United States are the focus of an exhibit opening Saturday, April 2, and on display through June 1 in Cal State Fullerton's Pollak Library.
The exhibit "Border Inspections: Art-Based Encounters With Language, Identity, Culture and Power" in the Salz-Pollak Room is free and open to the public.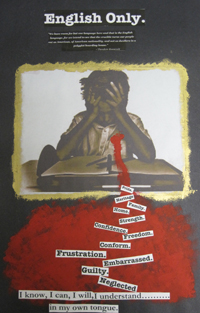 Caption: Sedale Ali, a graduate student in education with a concentration in elementary and bilingual education, created "English Only" for the exhibition.
"Given the recent resurgence of anti-immigration and English-only school policies, young people, university students and teachers have produced creative responses to the ways bilingual and immigrant youth's lives have been affected," said Sharon V. Chappell, assistant professor of elementary and bilingual education and exhibit curator.
"Through this exhibition we want to raise questions about the ways that the arts and language development work in tandem to contribute to English learners as critical, creative young people," she added.
"Border Inspections" features more than 30 paintings, sculptures, photographs, video stills and pieces of creative writing by Cal State Fullerton graduate students, along with K-12 students and their teachers, university students and their professors from throughout the United States and Canada.
Artworks were created by graduate students in the College of Education's Department of Elementary and Bilingual Education as part of ongoing research in their master's degree program about contemporary issues in bilingual and bicultural education, said Chappell, also a visual artist. Six of these students also presented their arts-based research projects at the March 26 California Association of Bilingual Education annual conference in Long Beach.
Alumna Sandra E. Velazquez (B.S. child and adolescent studies '08), now enrolled in the university's master's in education degree program and pursuing an elementary curriculum and instruction concentration, is among the students who submitted art for "Border Inspections."
Velazquez, who also completed the college's multiple-subject credential program, created the sculpture "Stereotypes!"
"My artwork needed to portray the stereotypes that surround the Hispanic culture. I wanted to develop something that grabbed one's attention. It needed to make people critically think about what was being portrayed and truly make an impact to their lives," said Velazquez, a special education assistant for the Los Nietos School District in Whittier.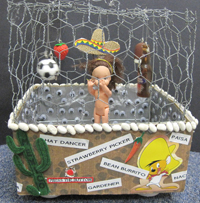 Caption: Sandra E. Velazquez, a graduate student in education, created "Stereotypes!" for the Border Inspections exhibition in the Pollak Library.
"Stereotypes are negative subconscious thoughts that quite often become verbal remarks. Humans need to realize that by judging others they, too, are contributing to the various prejudices this society has to offer," Velazquez added. "Becoming aware and attempting to control these thoughts will lead us to a much more welcoming, accepting society."
The exhibit is also part of Chappell's own research interests of social justice artwork made by, for and about bilingual young people and will be featured in an upcoming academic book that Chappell, a visual artist who specializes in collage and artist bookmaking, is developing.
"Border Inspections" is open during the Pollak Library's operating hours. 
An opening reception is scheduled for 2 p.m. April 2, in the Pollak Library. The exhibit in the Salz-Pollak Room is at the library's east entrance.
Campus parking is $2 per hour or $8 for a daily permit Mondays through Fridays and free on Saturdays. Details available online.
For more information about the exhibit, contact Chappell at 657-278-8493 or schappell@fullerton.edu.
# # #
Media Contacts:
Sharon Chappell, Elementary and Bilingual Education, 657-278-8493 or schappell@fullerton.edu
Debra Cano Ramos, Public Affairs, 657-278-4027, 657-278-2414 or dcanoramos@fullerton.edu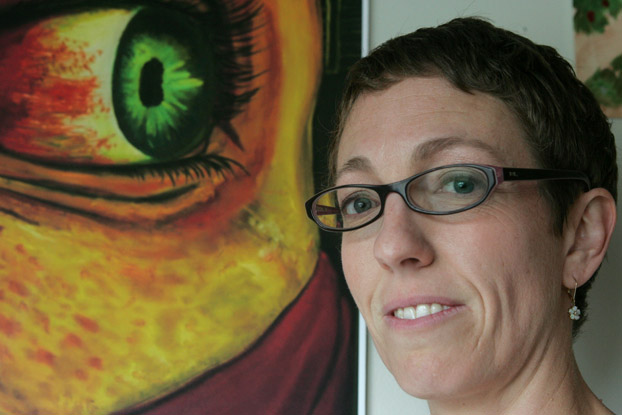 Caption: Curator Sharon Chappell goes eyeball to eyeball with one of the art pieces on exhibit in the Pollak Library. Photo by Karen TapiaDownload Photo