Caption: Members of Cal State Fullerton's Academic Senate Executive Board for the 2011-12 academic year are, from left, front row, Kenneth J. Walicki, vice chair; Stephen J. Stambough, member-at-large; Lynda E. Randall, member-at-large; Barry A. Pasterneck, statewide Academic Senate representative; and Sean E. Walker, secretary; back row, John W. Bedell, Academic Senate chair; Amir Dabirian, treasurer; Diana Guerin, outgoing Academic Senate chair and statewide Academic Senate representative; and Stephen R. Walk, member-at-large.Download Photo
Sixth Time Elected
Longtime Campus Leader Named Academic Senate Chair
May 31, 2011 :: No. 169
John W. "Jack" Bedell, emeritus professor of sociology, has reached a milestone that no one else at Cal State Fullerton has achieved. He has been elected Academic Senate chair for the sixth time in his 40-year career teaching sociology.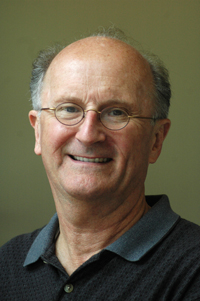 Caption: John W. "Jack" BedellDownload Photo
Elected May 19, Bedell also became the first faculty member taking part in the university's Faculty Early Retirement Program to be elected to the position. 
"I'm very honored to be named to this position," said the veteran educator a few days after the vote. "We have a very diverse executive board — covering all sections of the university — and it will be good working with them in the coming year.
"This year we will be faced with continuing issues because of the state budget," he explained. "We'll be facing huge transitions in a number of key positions, infrastructure issues and classroom renovations." 
Among his goals is to continue a five-year-long process of reviewing the university policy statements. "We want to make policies that are good and revise those that need revising," said Bedell. "We also need to look at some areas where policies are needed and we currently don't have any. We have many online programs going on, and there's no policy on how they are run and overseen.
"I also think that its time to look at our colleges' missions and see if there are changes and improvements that can be made to how the university and the colleges serve the needs of today's students. I think we need to begin a dialogue on our size, our goals and whether we are doing the best that we can for the campus and greater community."
A member of the campus community since 1969, Bedell will be entering his 25th year this fall on the Academic Senate. Not only has he served as chair on the campus senate, but as chair of the statewide senate as well.
In addition, Bedell has been chair of the departments of Anthropology, Sociology and Electrical Engineering, and coordinator of the Child Development Program. He's also held numerous other positions, including serving on various department and campus committees.
The Fullerton resident holds a doctorate from Case Western Reserve University.
Joining Bedell on the Academic Senate Executive Committee for 2011-12 are:
Vice Chair — Kenneth J. Walicki of Fullerton, associate professor of music
Secretary — Sean E. Walker of Fullerton, associate professor of biological science
Treasurer — Amir Dabirian of Orange (B.S. engineering-electrical '85, M.S. engineering-electrical '88), vice president for information technology
Members-at-Large are:
Stephan R. Walk of Fullerton, chair and professor of kinesiology
Stephen J. Stambough of Yorba Linda, associate professor of political science
Lynda E. Randall of Tustin, professor of secondary education 
Serving on the Statewide Academic Senate are:
Diana Guerin of Fullerton (M.A. psychology '80), professor of child and adolescent studies
Barry A. Pasternack of Santa Ana, emeritus professor of information systems and decision sciences
Reyes Fidalgo of Fullerton, professor of Spanish
# # #
Media Contact:
Pamela McLaren, Public Affairs, 657-278-4852, pmclaren@fullerton.edu