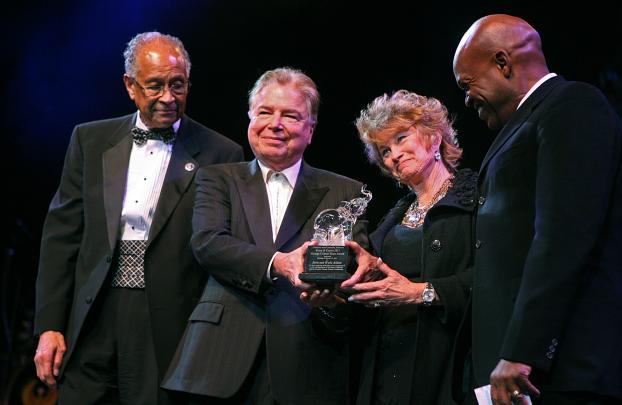 Caption: Wylie and Bette Aitken, center, hold their Orange County Titan award as President Milton A. Gordon, left, and alumnus Jubilant Sykes look on. Photo by Greg Andersen
OC Titans
Bette and Wylie Aitken Honored by Cal State Fullerton
Feb. 17, 2011 | updated March 9, 2011 :: No. 81
BETTE AND WYLIE AITKEN of Anaheim Hills are this year's recipients of the Orange County Titan Award, presented each year by Cal State Fullerton to an organization or individuals who have made a positive impact in Orange County.
The award was presented during the university's Feb. 19 Front & Center event at the Honda Center in Anaheim. The Aitkens are longtime supporters of the university.
A nationally recognized consumer advocate trial lawyer, Wylie Aitken is a founding partner of Aitken, Aitken & Cohn, a well-known personal injury law firm in Santa Ana.
Aitken was one of the youngest presidents in the history of the State Trial Bar. Since then, he has been continually recognized by Lawdragon magazine as one of the "Top 500 Lawyers in America" and by Los Angeles Daily Journal as one of "The Top 100/California's Most Influential Lawyers." He has been repeatedly designated a "Southern California Super Lawyer" and featured in Best Lawyers in America and the Preeminent Lawyers of America.
Some of Aitken's honors include the Franklin G. West Award — the Orange County Bar Association's highest award — and the American Board of Trial Advocates Trial Lawyer of the Year award. In addition, former Gov. Arnold Schwarzenegger recently nominated him to the California Arts Council.
Aitken also serves as a trustee for the Segerstrom Center for the Arts and Chapman University, as well as board president for South Coast Repertory. He is a member of numerous other area boards, such as Susan G. Komen Pink Tie, Mission San Juan Capistrano Preservation and Santa Ana College foundations.
Bette Aitken is a member of the board of trustees for South Coast Repertory and its Gala Committee, and is active with Angels of the Arts, the Segerstrom Center for the Arts support group; Elizabeth Glaser Pediatric AIDS Foundation; Women in Leadership Orange County; and Laura's House, where she was honored as 2007 Woman of the Year. She also supports her local community by serving on the boards of various arts and education-related nonprofits, including the Muzeo Foundation, Anaheim Historical Museum and Servite High School.
While attending Cal State Fullerton, Aitken majored in history. As a student, he was a member of the Phi Alpha Theta fraternity and the Elephant Racing Club. He has served as a member of the board of governors of the Cal State Fullerton Philanthropic Foundation since 2004. In addition, the couple are active members of the Kathleen E. Faley Memorial-CSUF Special Games board and longtime supporters of the university's President's Scholars program.
"We all know there's no shortage of good causes, and we try to identify as many of those good causes as we can reach," Aitken said. "Because when you're giving, when you're engaged, when you're involved, the return — it's almost selfish," he added. "The return always exceeds whatever Bette and I could possibly do.
"CSUF gave me a launching pad in which to go to law school and enabled me to do what I do today," he continued. "I got the benefit of going to an outstanding university with an outstanding faculty."
Aitken is an honorary lifetime member of the Cal State Fullerton Alumni Association and a 2002 recipient of the university's Vision & Visionaries Distinguished Alumni Award; both were honored at the 2008 Legends & Legacies donor recognition gala. The Aitkens also have supported the university's annual Front & Center event for 13 consecutive years.
"I'm always impressed by people whose long-term philanthropy, in this case 30 years, is consistent, and whose breadth of interests in the county show that they are really, really citizens of the world," said Pam Hillman, vice president for university advancement. "I think Wylie and Bette epitomize that sense of real citizenship, real philanthropy at the heart of everything they do."
The couple met at Santa Ana College when they were students. They have three children — all of whom are attorneys at Aitken, Aitken & Cohn — and 10 grandchildren.
Feb. 17, 2011 | updated March 9, 2011