Becoming Braceros
Director Discusses, Screens 'Harvest of Loneliness' Oct. 10
Sept. 28, 2011 :: No. 34
What:The award-winning documentary "Harvest of Loneliness: The Bracero Program" will be screened and its director, Gilbert G. Gonzalez, will discuss it as part of Cal State Fullerton's Hispanic Heritage Month celebration. The event is free and open to the public.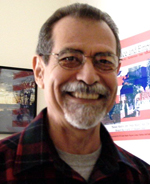 Caption: Gilbert G. Gonzalez
When: Monday, Oct. 10
4-6:30 p.m.
Where: Cal State Fullerton, Pine Hall, Room 111
800 N. State College Blvd., Fullerton 92831
Additional: The film, winner of the Audience Choice Award at the 2010 Los Angeles Latino International Film Festival, is about men from Mexico and other countries who joined the United States' temporary worker program from 1942 to 1964 and the families they left behind. Gonzalez is a professor of Chicano Latino studies at UC Irvine.
Parking: $2 per hour or $8 for a daily permit. Details are available online.
Sponsors: Cal State Fullerton College of Humanities and Social Sciences, Chicana and Chicano Studies Department, Chicana and Chicano Resource Center, Chicana and Chicano Studies Alliance, Freshmen Programs and Housing and Residence Life
RSVP: To reserve a seat, visit the event website.
More Info: Contact Nancy Fernandez of Freshmen Programs at 657-278-3709 or npfernandez@fullerton.edu
Media Contacts:

Alexandro J. Gradilla, Chicana and Chicano studies, 657-278-4210 or agradilla@fullerton.edu
Mimi Ko Cruz, Public Affairs, 657-278-7586 or mkocruz@fullerton.edu