Better Communication for Better Business
How Family Businesses Can Align Strategy and Build Stronger Relationships
Sept. 1, 2011 :: No. 13
What:
How to align vision and strategy while protecting relationships in a family business is the topic of the Sept. 20 program, "The Neuroscience of Conversation: Align Business Strategy-Build Family Relationships," sponsored by Cal State Fullerton's Family Business Council.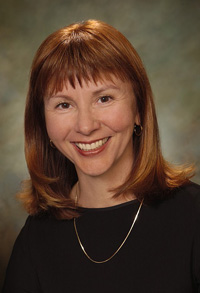 Caption: Lois Lang of Evolve Partner GroupDownload Photo
Who:
The program will be lead by Lois Lang, a partner with the Seattle-based consultation firm, Evolve Partner Group. She has a doctorate in industrial/organizational psychology, as well as an MPA, and has worked with such organizations as Kaiser Permanente, Catholic Health Care West and La Tortilla Factory.
When:
Tuesday, Sept. 20
4:30-7:30 p.m.
Where:
Scott O'Brien Innovation Center, Room 3230 of Mihaylo Hall
Cal State Fullerton, 800 N. State College Blvd., Fullerton, 92831
Parking is on the top level of the Fullerton Marriott parking structure at the corner of Nutwood Avenue and Folino Drive. Cost is $8.
Background:
The Family Business Council, operating within the Mihaylo College of Business and Economics, is a partnership between the business community and university. Its mission is to enhance the well-being and survivability of family businesses by providing opportunities for education, interaction and information tailored to business needs and concerns.
Cost:
Free for first-time family business attendees interested in becoming a member of the Family Business Council. Reservations are required and can be made by calling Robbin Bretzing at 657-278-4182 or by email at fbc@fullerton.edu.
Upcoming:
Oct. 12: "Preparing the Future Generation for Inheriting the Business and Wealth" with Bill Roberts and Dick Hartmann of Benefit Concepts
Nov. 15: "Selling Successfully in a Trust and Value Economy" with Meridith Elliott Powell of Motionfirst
Media Contacts:
Ed Hart, director of the Family Business Council, 657-278-7431 or edhart@fullerton.edu
Pamela McLaren, Public Affairs, 657-278-4852 or pmclaren@fullerton.edu