Facts and Myths About Bats
Tucker Wildlife Sanctuary Presents 'Bat Night' Oct. 15
Oct. 3, 2011 :: No. 37
What:         
"Bat Night" at Cal State Fullerton's Tucker Wildlife Sanctuary features a talk about bats and myths that surround them, as well as a new display about bats in the sanctuary's Nature Science Center. The Oct. 15 public event also features crafts, pumpkin carving and wagon rides.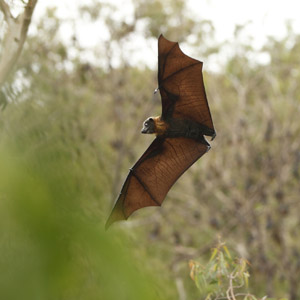 Caption: A bat in flight.
When:         
Saturday, Oct. 15
4-8 p.m.
5 and 6:30 p.m. - lectures
dusk - bat search
Where:         
Tucker Wildlife Sanctuary
29322 Modjeska Canyon Road, Silverado, 92679
Who:         
Paul T. Stapp, CSUF associate professor of biological science, will give lectures about bats and myths that surround them. Stapp will bring bat specimens from the university's Vertebrate Teaching Collection, along with a bat detector, to try and find some of the bats that live at Tucker Wildlife Sanctuary.
Presentation:         
"The topic of bats comes up a lot around Halloween season, so it's a good time to learn about this highly specialized and ecologically important group of mammals that is rarely seen and underappreciated," said Stapp, who added that Orange County is home to 16 bat species. "My talk will focus on interesting aspects of the biology of bats by dispelling some common misconceptions about bats and their interactions with people."
Cost:         
Children under 12 free; $5 for adults. Food and some activities, such as face painting and wagon rides, will be available for purchase.
Parking:        
Event visitors may park on the corner of Santiago Canyon and Modjeska Canyon roads and board a shuttle bus to Tucker Wildlife Sanctuary. Parking at the sanctuary is limited.
About Tucker:         
Owned by Cal State Fullerton and operated by the College of Natural Sciences and Mathematics, the 12-acre, nonprofit nature preserve is adjacent to the Cleveland National Forest. The public facility serves as an education and research center and provides tours and classroom outings for kindergarten through college-age students. It is open to the public Tuesday through Sunday.
More Info:         
Visit www.tuckerwildlife.org or email sbrady-hart@fullerton.
Media Contacts:        
Karon Cornell, Tucker Wildlife Sanctuary, 657-278-3896, 714-269-0625 (mobile) or kcornell@fullerton.edu
Paul T. Stapp, Biological Science, 657-278-2849 or pstapp@fullerton.edu
Debra Cano Ramos, Public Affairs, 657-278-4027, 657-278-2414 or dcanoramos@fullerton.edu