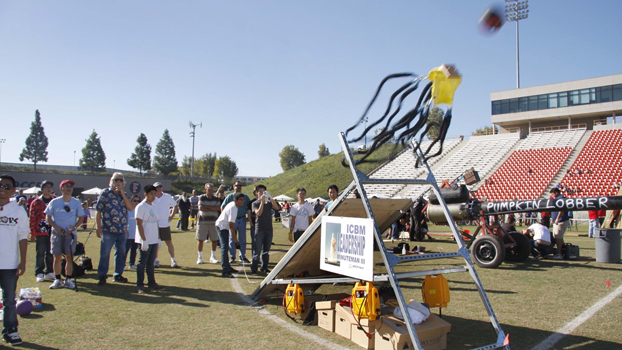 Caption: A team watches as their catapult launches a pumpkin in the air during the 2009 competition held in the Titan Stadium.
Flying Pumpkins and Family Fun
Engineering 'Pumpkin Launch' Nov. 5
Oct. 26, 2011 :: No. 55
What: Using handmade catapults, giant trebuchets and other, large creative devices, Cal State Fullerton engineering students and others will compete in the annual fall "Pumpkin Launch." The free, family-oriented event is sponsored by CSUF's College of Engineering and Computer Science, Discovery Science Center and Future Scientists & Engineers of America.
When:      
Saturday, Nov. 5
10 a.m.-noon: Activities and demonstrations
Noon-2 p.m.: Pumpkin launch competition
Where: Cal State Fullerton's athletics fields located on the north side of campus off State College Boulevard, south of Yorba Linda Boulevard.
800 N. State College Blvd., Fullerton, 92831
Highlights: In addition to the pumpkin launch competition, other activities include: free, engineering-related activities for children offered by CSUF student engineering clubs and Discovery Science Center volunteers; a pumpkin carving contest (bring your own carved creation); music and entertainment. Gourmet food trucks will be selling specialty fare. More than 5,000 spectators are expected to attend the event, to be held rain or shine.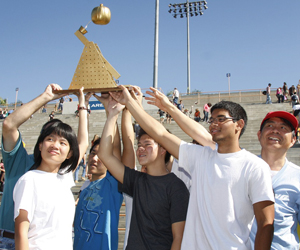 Caption: The thrill of victory! A winning team holds their trophy aloft at a past event.
Participants: CSUF student chapters of the Society of Women Engineers, Society of Hispanic Professional Engineers, National Society of Black Engineers, Society of Mexican American Engineers & Scientists, American Society of Mechanical Engineers, Society of Automotive Engineers, American Society of Civil Engineers, Institute of Electrical and Electronics Engineers, Institute of Electrical and Electronics Engineers Computer Society, American Society of Engineers of Indian Origin, Geotechnical Institute Geological Student Organization, Association for Computing Machinery and Video Game Design Club.
Why: "The pumpkin launch gives our students a venue to apply engineering lessons learned in class to an actual project. While it is a competition, it's also a fun way to educate the students," said Harmonie Hawley, assistant professor of civil and environmental engineering, who serves as adviser to the campus chapter of the Society of Women Engineers. "The pumpkin launch is multi-disciplinary; our team will have members from all disciplines of civil engineering, mechanical engineering and electrical engineering. The students will work in teams to design and construct the pumpkin launcher, which is an important lesson.
"It's a way for the community to understand how important engineering is to our everyday lives," Hawley added. "This event also attracts young adults and children and exposes them to engineering; these are the same people who will be the next generation of college students — and who may decide to become engineers."
Parking: Visitors can park free in the State College Parking Structure, located adjacent to State College Boulevard and Gymnasium Drive. Campus map: http://www.fullerton.edu/campusmap/CampusMap.html
More Info:      
Sandy Norell, College of Engineering and Computer Science, 657-278-5987 or snorell@fullerton.edu; Discovery Science Center, 714-542-2823 or http://www.discoverycube.org; or register to attend or compete online at www.discoverycube.org/pumpkinlaunch.
Media Contact:     
Debra Cano Ramos, Public Affairs, 657-278-4027; 657-278-2414 or dcanoramos@fullerton.edu