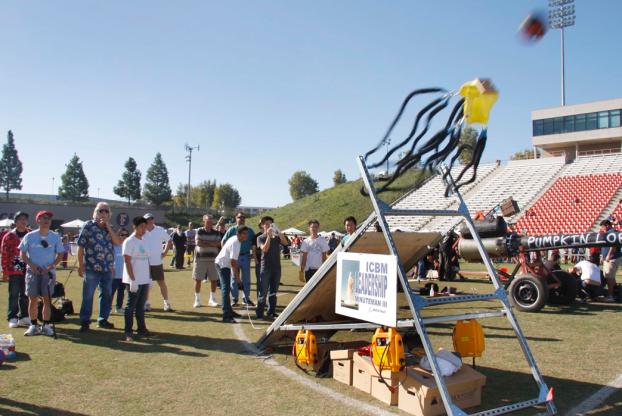 Caption: Last year's Boeing Co. team designed a slingshot device to launch pumpkins in the Titan Stadium.
High-Flying Event
Orange Gourds Going Airborne at Nov. 20 Pumpkin Launch
Nov. 2, 2010 :: No. 47
What:

Gourds and other assorted items will fly at the annual Pumpkin Launch sponsored by Cal State Fullerton's College of Engineering and Computer Science, Discovery Science Center and the Future Scientists and Engineers of America. The free, family-oriented event will feature demonstrations and children's programs/competitions on building catapults, towers and paper airplanes.
When:

Saturday, Nov. 20

9 a.m.-12:30 p.m.
Where:

Titan Stadium
Cal State Fullerton, 800 N. State College Blvd., Fullerton, 92831
The stadium is located on the north side of campus at Yorba Linda Boulevard and Associated Road. 
Additional:

The event will include demonstrations of medieval weapons and everyday technology by representatives from the Orange County-headquartered Kingdom of Esperance. Engineers will answer questions and help children build and use their own small catapults, Alka Seltzer rockets and small-scale potato launchers. Children can compete in tower building, paper airplane design and flying, and marshmallow launching. Music and entertainment will be provided and food booths will be open. Student teams from the university, area high schools and engineering corporations will launch pumpkins weighing up to 10 pounds at targets with catapults, trebuchets, large slingshots and other devices they build. 
Info:

Sandy Norell, Cal State Fullerton's College of Engineering and Computer Science, 657-278-5987, or snorell@fullerton.edu
Discovery Science Center at 714-913-5018 or http://www.discoverycube.org
Media Contact:
Russ Hudson, Public Affairs, 657-278-4007 or rhudson@fullerton.edu