Bug Safari
Kids Had So Much Fun, Adults Wanted One, Too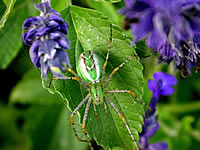 A green lynx spider spins its web. These spiders are know to both lie in wait and chase their prey. Photos courtesy of Cindy Calisher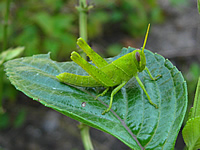 The gray bird grasshopper will rest and dine on a single plant for long periods before shifting to a plant of another species and repeating the behavior.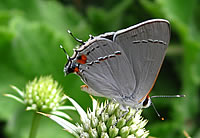 The gray hairstreak butterfly prefers goldenrod, milkweed and clover plants.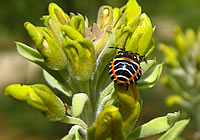 Harlequin bugs have arresting looks and are considered almost "cute" by some. Photo courtesy of Cindy Calisher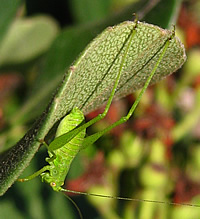 The katydid, a relative of grasshoppers, was so named when the first Europeans who heard them in America attempted to duplicate with the name the sound many of them made.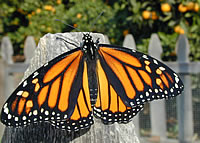 A monarch butterfly. The variety is most famous for its southward migration each year. It takes three to four generations to complete the journey southward and the return trip.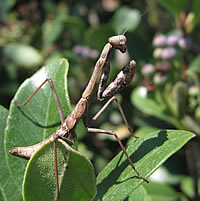 A praying mantis will eat anything it can capture with its lightning-fast spiked forelegs.
Who/What:
Kids don't always get all the fun. On July 10, a Bug Safari just for adults and older teens — 16 years and up — will be led through the 26-acre Fullerton Arboretum by nature guide and 'bug-ologist' Cindy Calisher. Typically on the safari, both native and non-native species are encountered, including praying mantids, marine blue butterflies, beetles, caterpillars, the potato-beetle larva that spreads its own toxic excrement on its back as protection from predators, and the African bagrada bug that suck juices from plants with its piercing needle-like mouth.
When:
Saturday, July 10
9:30 a.m. to approximately 10:30 a.m.
Where:
Fullerton Arboretum, 1900 Associated Road, Fullerton
(northeast corner of the California State Fullerton campus)
More:
Previous bug safaris at the Arboretum were for children, Calisher said, but parents and older teens were equally enthusiastic. Discussion during the safari will be directed by participants' questions.
Preparation:
Attendees are asked to bring magnifying glasses and cameras and wear comfortable clothing. Participants will receive insect identification books and photo sheets. Calisher said the search is strictly catch-and-release.
Cost:
$6 for Fullerton Arboretum members, $8 for non-members
Register:
Deadline is Wednesday, July 7; to register call 657-278-3407.
Media Contacts:
Ami Becker, Fullerton Arboretum, 657-278-4681 or abecker@fullerton.edu
Russ L. Hudson, Public Affairs, 657-278-4007 or rhudson@fullerton.edu