International Understanding
Artist's Passion for Art and Culture Recognized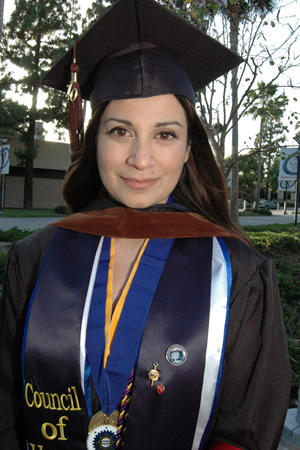 Fatima Jamil Faiz is this year's Cal State Fullerton International Understanding Award winner. Photo by Peggy O'Donnell
Art is a passion that knows no bounds or barriers. It can span the past, the future and cross continents.
Still, it is not the only passion that drives Fatima Jamil Faiz. Having lived in three countries on two continents, she is driven to share her culture and heritage with others. Accordingly, this Class of 2010 Cal State Fullerton master of fine arts graduate received the university's 2010 International Understanding Award.
"Growing up, I spent endless hours in the afternoons recreating favorite story book characters through imaginative paintings, drawings and puppets made with limited art supplies," says Faiz, who was born in Pakistan. "I knew immediately I wanted a career in art, and that led to pursuing a B.F.A. and later, an M.F.A."
After earning her B.F.A. in painting, drawing and printmaking at Indus Valley School of Art and Architecture — one of the top art schools in Pakistan, Faiz and her husband immigrated to Canada in 2000. She shared her artistic passion through teaching and through exhibits in Toronto. But she was driven to continue her own studies.
"Somehow, I knew I had to pursue my master's degree where the art scene was thriving, and knew it had to be on the West Coast," she explains. "I was geared toward Cal State Fullerton for many reasons, including that its art department was one of the finest in the Cal State system.
"You can say my life changed after joining this school and from the very start, it was an amazing experience. That experience has further enriched and strengthened my purpose as an artist."
Faiz was recently nominated to the national honor society Phi Kappa Phi, based on her academic record and leadership qualities. "I set a high bar for myself and work relentlessly until I am able to achieve that standard."
In addition to her studies, Faiz served two consecutive terms as president of the Fullerton University Artist Club, co-vice president of Pi Kappa Phi fraternity and conducted a volunteer workshop as part of the university's annual Student Leadership Institute. In addition, since fall 2008, she has taught beginning drawing and painting on campus.
She also served as president of Phi Beta Delta Honor Society for International Scholars, which she says kept her involved in the campus's international student scene.
"It was a challenge maintaining a 4.0 G.P.A. and being involved in extracurricular activities at CSUF. I somewhat like working under immense pressure; it brings the best out in me. I worked closely with numerous wonderful individuals, especially Lay Tan Tuan [director of International Education and Exchange], who has been extremely encouraging towards my international interests."
She characterized her participation in the honor society as a "gratifying experience, serving and helping connect people from various ethnic and cultural backgrounds, and as a result, I made several wonderful friends from different regions of the world."
In addition to the International Understanding Award, Faiz received a variety of scholarships: William Pollock (for student leadership), Alberta Lambert and Prospects for Future (for creative achievement), as well as Adult Re-Entry scholarships.
Faiz continues to exhibit her work and recently was selected to illustrate two books of ancient folklore. She also has worked with fellow international students to increase English language literacy.
"I have taught English literacy and visual art and felt many of the language difficulties international students face. I have been able to help them communicate through art, and it's been a great experience helping them to achieve. The students were highly motivated to talk about their heritage and culture, and we discovered a great deal of common cultural experiences.
Faiz intends on teaching and studying the traditional art of Persian miniatures. She recently began applying for artist residencies and anticipates studying with a renowned Pakistani artist based in Chicago in the fall.
"I have several goals aligned right now — let's see how everything pans out." To future students, she advises: "Always follow your path and try to not deter or steer away from it. It will get you closer to your goals."