Newborns on Her Mind
Hospitals Are Award-Winnerís Off-Campus Classroom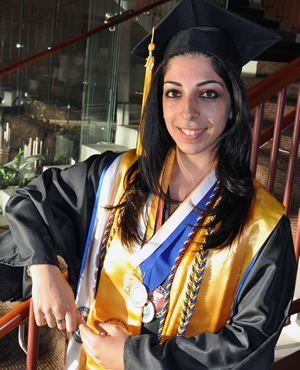 Ghazal Bahri graduated with many honors last month. Photo by P. O'Donnell
Cal State Fullerton graduate Ghazal Bahri has completed the initial stage in preparing to become the first person newborns will see.
"I would love nothing more than to be a physician who helps bring a new life into this world and brings joy and happiness to the parents," said the biological science major, who is this year's recipient of the Kenneth L. Goodhue-McWilliams Award for Outstanding Service in the Health Professions.
The award is among the top student honors at Cal State Fullerton. Named for the emeritus professor who sponsors the award, it goes to a health professions student who makes outstanding contributions to community service.
Bahri, a Yorba Linda resident, volunteered more than 300 hours at Kaiser Permanente in Anaheim. As a liaison between the emergency and waiting rooms, she watched physicians at work. Now she wants to work in the labor and delivery department so she can observe obstetricians and gynecologists.
"I've been lucky," the 21-year-old said. "I've learned much more at the hospital than I could have by just going to classes. I've seen physicians work with and without patient interaction, which solidified my passion for medicine and advanced my knowledge.
Ghazal Bahri
"I know more about running a department and patient interaction. I've made great friends. My instructors took me under their wings, too," she said. "They helped me lay my foundation for medical school. They encouraged me, mentored me, pushed me if needed. I'll always remember that."
Bahri spent many hours in the lab the last two years, too, researching ovarian cancer with Alison Miyamoto, assistant professor of biological science. Bahri says Miyamoto helped her progress as a scientist, and Miyamoto is complimentary of her.
"It didn't surprise me that she won the award," Miyamoto said. "One of Ghazal's characteristics is her willingness to pitch in and help get the work done. She is an excellent researcher with a creative approach to solving problems. I think she does well in applying both her knowledge of biology and of chemistry."
The award surprised Bahri, though, and she immediately gave the credit to others. "I didn't expect this! What a wonderful surprise! But, you know, I give the credit to my parents. They taught me that our purpose in life is not to be selfish, but to help my fellow man."
Bahri has been on the Dean's List since she arrived at Cal State Fullerton in 2006 and also is a member of the honor societies Phi Kappa Phi, Golden Key International and National Society of Collegiate Scholars, as well as the University Honors Program. Bahri is a member of the campus Biology Club and the Student Health Professions Association.
"The clubs gave me so much," said Bahri. The Student Health Professions Association "showed me all the health profession possibilities and what I need to know for medical school. I'm more aware of organizations and programs around the world dedicated to helping, and I've made friends. I've been able to give back to SHPA and its members by serving as publicity chair."
Bahri said she knew what she wanted since seventh grade. "My dad had a saying about preparing today for tomorrow instead of just doing what you want for now: 'lose today, gain tomorrow,'" Bahri said. "I think about that every day before I leave the house."
Her next step is medical school. She is applying now and wants to start in fall of 2011.