Special Athletes Set to Compete May 7
CSUF Special Games-Kathleen E. Faley Memorial Celebrates 25 Years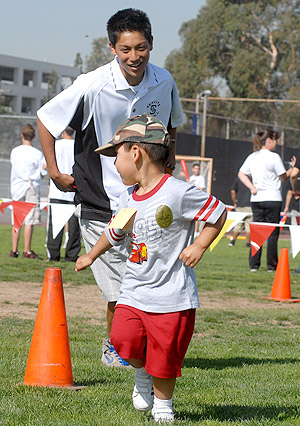 Johnny Ruiz, 2, runs through the obstacle with his helper, Brodie Soares, 15, right behind him at the 2008 CSUF Special Games. Photo by Kelly Lacefield
More than 2,500 special athletes from throughout the country will be the sports stars Friday, May 7, at the 25th annual Cal State Fullerton Special Games-Kathleen E. Faley Memorial held on the practice fields north of Titan Gymnasium.
Joining them will be more than 4,000 high school students volunteering their time in support of the special athletes.
Opening ceremonies begin at 9:30 a.m. with master of ceremonies Ed Arnold, host of KOCE-TV's "Real Orange" program. Visiting athletes will take part in a variety of noncompetitive athletic events, including football and basketball toss, T-ball, soccer goal kicks and a 50-yard dash.
The 8:30 a.m.-2 p.m. program will include theme park characters joining Cal State Fullerton's Tuffy Titan and clowns interacting with the athletes, fire trucks and police squad cars on display, live music and lunch for the athletes and volunteers.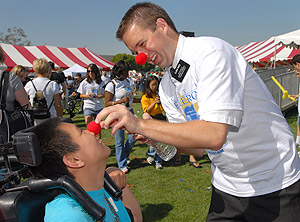 Evan Vuong, left, gets a matching clown nose from his helper, Elder Race, 20, during the 2008 Cal State Fullerton Special Games-Kathleen E. Faley Memorial. Photo by Kelly Lacefield
All athletes will go home with a first place blue ribbon, game-day certificate and a commemorative T-shirt; volunteers will receive a community service certificate recognizing their volunteer hours and a commemorative bracelet band. Individuals interested in signing up as a volunteer can call the university's Office of Disabled Student Services at 657-278-3112.
The Cal State Fullerton Special Games-Kathleen Faley Memorial was launched in 1986 as a CSUF class project. Two years later, the games were dedicated to the memory of Kathleen E. Faley, an alumna who died in a car accident in 1987. She was the sister of event co-organizer Dan Faley and among the inaugural core group of Special Games volunteers. To this day, her family remains involved in the event's planning and organization.