Making a Difference
Service to America Medalist Lectures April 22 on Mining, Environmental Challenges
What: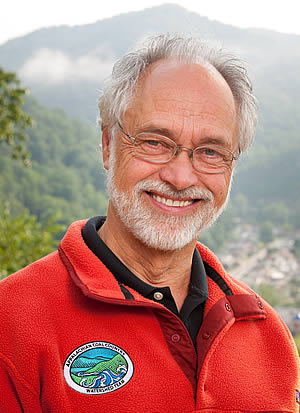 T. Allan Comp
Cal State Fullerton alumnus T. Allan Comp, founder of an Appalachian Coal Country Watershed Team that has orchestrated massive environmental cleanup efforts in eight states by volunteers who have contributed more than 100,000 hours, will present an April 22 lecture on "Mining, Community and Environmental Challenges; Making a Real Difference."
When:
Thursday, April 22
4-5:30 p.m.
Where:
Mackey Auditorium, Ruby Gerontology Center, Cal State Fullerton,
800 N. State College Blvd.,
Fullerton, 92831
Who:
T. Allan Comp (B.A. history '65) is coordinator of the Office of Surface Mining/Volunteers in Service to America Teams in the U.S. Department of the Interior.
Additional:
One of this year's recipients of Cal State Fullerton's Distinguished Alumni Award — to be presented Saturday, April 24, during the university's annual Vision & Visionaries gala — Comp is recognized for his work with the Appalachian Coal Country and Western Hardrock Watershed Team.
The damage done by underground mines, now closed, in Appalachia first came to Comp's attention in 1993 while he was working for the National Park Service National Heritage Areas Program. In 1994, he formed a nonprofit and cleanup project called AMD&ART in which scientists, artists, local historians, AmeriCorps VISTA and community members came together under his direction to create a 35-acre park in Vintondale, Penn.
Later, Comp joined the U.S. Department of the Interior and in 2001 launched the Appalachian Coal Country Watershed Team, partnering his Interior Office of Surface Mining with the federal VISTA program and community groups to create better places to live and work. Watershed Teams now operate in eight states, contribute more than 120,000 hours of community service and have raised nearly $8 million.
Comp has been recognized as a Purpose Prize Fellow by Civic Ventures in 2007 and last year was the first federal employee to be named a National River Hero by River Network. Also in 2009, the Washington, D.C., resident was honored by the Partnership for Public Service with a Service to America Medal for work with volunteers who address environmental and economic issues in coal-producing states.
Cost:
Free. On-campus parking is $8 per vehicle for the day. Short-term parking also is available. Parking lot and permit machine locations are posted online.
Photo:
Available online at www.fullerton.edu/newsphotos