Holocaust Survivor Shares Her Story
April 14 'Eyewitness to War' Speaker to Recount Concentration Camp Experience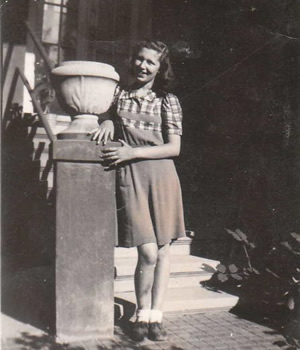 Mary Bauer and her mother before they were deported to Auschwitz. Photo courtesy of Mary Bauer
What:
Mary Bauer will talk about her experiences as a prisoner in Auschwitz and her life before and after the Holocaust as part of Cal State Fullerton's "Eyewitness to War" speaker series.
When:
Wednesday, April 14 4:30 p.m.
Where:
Cal State Fullerton
Pollak Library, Room 360
800 N. State College Blvd., Fullerton, 92831
Who:
Holocaust survivor Mary Bauer was a teenager in Hungary when she and her mother were deported and imprisoned at Auschwitz. At the concentration camp, Bauer was forced to weave the shorn hair of fellow prisoners into items for the Nazi war effort. In the spring of 1945, she and her mother were liberated by the Russian Army. She became a nurse and immigrated to America five years later. Now 82, Bauer is telling her story in an effort to raise awareness about the horrors of genocide and ethnic cleansing.
Steve Jobbitt, CSUF assistant professor of history and a scholar of Hungarian history and genocide, will introduce Bauer.
Sponsors:
Cal State Fullerton's European Studies Society, European Studies Program, History Department and Center for Oral and Public History
Photo:
Available online at www.fullerton.edu/newsphotos