Business Titans to Keynote Commencement 2010
Emulex Chairman and SchoolsFirst CEO to Receive Honorary Doctorates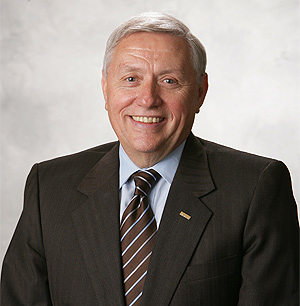 Rudy Hanley
Two business Titans — Paul Folino, executive chairman of Emulex Corp., and Rudy Hanley, president and CEO of SchoolsFirst Federal Credit Union — will be the keynote speakers for Cal State Fullerton's 2010 Commencement ceremonies. Both men also will be honored with an honorary doctorate in humane letters during the May 22-23 ceremonies.
Hanley will step to the podium Saturday, May 22, while Folino will address attendees at the Sunday, May 23, ceremony. Both programs begin at 8 a.m. on the sports fields north of Titan Gym.
Hanley helms the largest educational credit union and the seventh-largest credit union in the country. In addition to serving as CEO and president since 1982, Hanley serves on several national and local boards and committees, including as chairman of the national Trust for Credit Unions, and is a former member of the CSUF Philanthropic Foundation Board of Governors.
Under his direction, the credit union has been honored for its wide-ranging philanthropic endeavors, with the 2009 Maureen DeMarco Award from Orange County School Boards Association, 2006 Outstanding Corporate Philanthropy Award from the Association of Fund Raising Professionals and 2004 Orange County Titan Award from Cal State Fullerton.
SchoolsFirst has provided institutional support to nearly every program and college on campus, including the College of Education through its "Teachers Make All Other Professionals Possible" initiative and the college's new Center for Creativity & Critical Thinking in Schools.
Hanley and his wife, Catherine (B.A. communications-public relations '93), also have been personal donors to the university's Guardian Scholars and President's Scholars programs.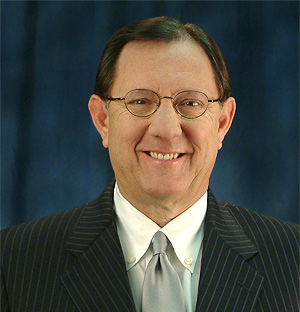 Paul Folino
Keynoter Paul Folino
Folino has served nearly 20 years with Emulex, a leader in converged networking solutions for data center environments. The Costa Mesa-based corporation is publicly traded on the New York Stock Exchange with a market capitalization of more than $850 million.
Folino's business acumen has been recognized through such awards as the 1999 Orange County Co-Entrepreneur of the Year for technology and Ernst & Young's 2000 Orange County Director of the Year for high-growth technology. In 2006, he was named "one of the top 100 most influential" people in Southern California by the Los Angeles Times. That same year, Folino received the Orange County Philanthropist of the Year award from the Association of Fund Raising Professionals. In 2005, he received the university's Orange County Titan Award.
At Cal State Fullerton, Folino serves on the Philanthropic Foundation Board of Governors and Mihaylo College of Business and Economics Dean's Advisory Board. He was co-chair and a major supporter of the Mihaylo College Building on Excellence Capital Campaign. In recognition of his many contributions, the southeast entrance road to the university is named in his honor.
Folino serves on the boards for the Orange County High School of the Arts and Chapman University, as well as those for Commercial Bank of California and Microsemi Corp.
Commencement May 22-23
Universitywide commencement ceremonies begin at 8 a.m. Saturday and Sunday. No tickets are needed to gain admission to the main ceremonies, and the public is invited. College and department celebrations and exercises will follow at various locations throughout campus, where tickets are required for guests.
Additional details are available online.
A comprehensive, regional university with a global outlook, Cal State Fullerton enrolls more than 36,000 students and offers 105 degree programs in eight colleges, including a doctorate in education. Accredited by the Western Association of Schools and Colleges, the university is sixth in the nation for the number of bachelor's degrees awarded to minority students and second in California for the number of bachelor's degrees awarded to Hispanics. With its main campus in Fullerton and branch campus in Irvine, Cal State Fullerton is the Orange County-based component of the 23-campus California State University, the largest system of senior higher education in the nation.