Powwow Brings Together Tribes from North America
March 27 Cultural Event Features Traditional Dancers, Drummers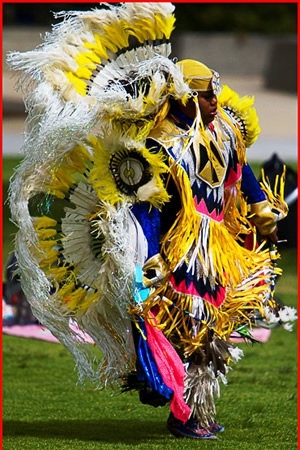 Yazzie Bedonie, of the Diné Black Feet and Powatan tribes, performs a traditional 'Fancy' dance. Photo courtesy of Tien Pham
What:
A spring powwow, showcasing Native American cultures and tribes from across North America will be held Saturday, March 27, at Cal State Fullerton. The free, public event features Native American dancers in colorful, handcrafted Regalia, as well as drummers, authentic food, arts and crafts.
When:
Saturday, March 27
11 a.m. to 11 p.m.
Where:
Lawn west of the Engineering and Computer Science buildings. Parking is free.
Attendees are encouraged to bring chairs and blankets for seating.
Schedule:
11 a.m. Opening ceremonies
Noon-5 p.m. Participating tribes, dressed in their native regalia, perform traditional dances
5:30 p.m. Performance by Calpolli Teotihuacan Anahuac from Orange County
Quote:
"The purpose of the powwow is to present Native American heritage to the university's students and local community, as well as to increase awareness of Native American life and issues that affect our people," said Rosalina Camacho, adviser for the university's Inter-Tribal Student Council.
Background:
The student-run powwow was first hosted on campus in 1971. The Inter-Tribal Student Council, Association for Inter-Cultural Awareness and Associated Students Inc. are this year's event sponsors. The Inter-Tribal Student Council exists to educate campus members and surrounding communities about Native American culture through events and cultural presentations. Inter-Tribal Student Council members are Anna Tiger, president; Jeff Mihut, vice-president/treasurer; and Irma Rivas, secretary.
Info:
657-278-3603 or itsc_3603@hotmail.com
Photos:
Available online at www.fullerton.edu/newsphotos