Genes and Health
Molecular Biologist Discusses Human Genome Project March 11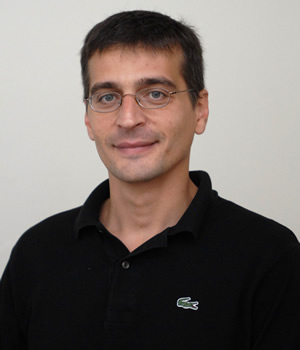 Nikolas Nikolaides
What:
The legal and ethical issues, as well as the practical uses, of comparing normal human genes to those that aren't, in order to detect diseases and formulate treatments, will be addressed March 11 by Nikolas Nikolaides, Cal State Fullerton assistant professor of biological science. His talk on "Applications of Comparative Genomics in Human Health and Disease" is presented as part of a Cal State Fullerton College of Natural Sciences and Mathematics Colleagues Colloquium Dean's Breakfast Briefing.
When:
Thursday, March 11 7 a.m. registration 7:30-9 a.m. program
Where:
Coyote Hills Golf Course, 1440 E. Bastanchury Road, Fullerton 92835
Additional:
The federally financed 13-year Human Genome Project, which involved the mapping of the 20,000 genes and three billion chemical base pairs that make up human DNA, was completed in 2003. It has led to strides in identifying diseases and predisposition to diseases, as well as developing treatments for them. The project also sparked legal and ethical debates that continue today about the use of human genomes because of the possibilities of social and reproductive discrimination based on a person's genes.
Colloquiums:
The colloquiums are forums held four times each academic year featuring experts addressing key scientific issues, followed by public discussion.
Cost:
$10 for the public and free for Colleagues members. Seating is limited, and reservations are required. Call Yvonne Moar at 657-278-3021 or RSVP online.
Photo:
Available online at www.fullerton.edu/newsphotos