Need Tax Assistance?
Business Students Offer Help to Low-Income Families, Individuals
What:
Cal State Fullerton students are offering income tax return preparation and filing assistance. Volunteer Income Tax Assistance is an IRS-sponsored community program that helps low-income families and individuals prepare federal and state returns.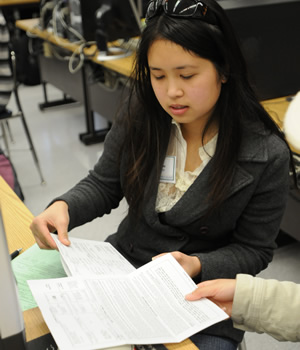 Linda Pham (B.A. business administration '09) reviews papers of a client of the Volunteer Income Tax Assistance program at Cal State Fullerton. Before graduating in August, Pham volunteered for the program for three years. Photo by Kelly Lacefield
When:
4-8 p.m. Tuesdays and Wednesdays, Feb. 9 through March 24
1-5 p.m. Saturdays Feb. 13 through March 28
Where:
Room 203A of Langsdorf Hall
Cal State Fullerton, 800 N. State College Blvd., Fullerton, 92831
Who:
Anthony Kress, a senior business administration major from Yorba Linda, and Daisy Zhao, a senior business administration-accounting major from Rowland Heights, are student coordinators of the effort, under the guidance of Kathleen K. Wright, professor of accounting, CPA and attorney.
Clients:
For those seeking services, annual incomes can be no greater than $40,000 for single filers, $45,000 for a family of three, or $50,000 for a family of four or more.
Applicants must bring:
valid photo I.D. and Social Security cards, birth dates for taxpayer, spouse and dependents
wage and earnings statements and financial statements applicable to a personal tax return
records of any payments to daycare and provider's I.D. number
last year's income tax returns, plus bank routing and account numbers for direct deposit
Additional:
Assistance is provided on a first-come, first-served basis, and clients must arrive at Room 203A of Langsdorf Hall at least one hour before closing time. Campus parking is $8 per vehicle during the week and free on Saturdays. A map of parking lots and self-serve permit dispensing machine locations is available.
Info:
Volunteer Income Tax Assistance Center at 657-278-8681 or by e-mail: csufvita@gmail.com