CSUF Educator Inspires Young Inventors
Students Create Bilingual Jump Rope for National Toy Competition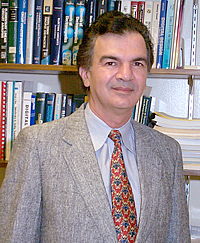 Electrical Engineering Department Chair Mostafa (Mo) Shiva assisted the young inventors.
What began as a personal desire by Carmen Zuniga Dunlap, associate dean of the College of Education at Cal State Fullerton, to quietly mentor three local elementary students has turned into an opportunity of a lifetime for the young girls.
Zuniga Dunlap and the students are traveling Friday to the Washington, D.C., area to participate in a national toy competition. Their journey really began when Zuniga Dunlap took the girls on a field trip in December to the Sally Ride Science Festival in San Diego, where they learned about the "Sally Ride TOYchallenge."
The young students were intrigued by the opportunity to be inventors and decided to go for the challenge and invent their dream toy.
After several weeks of brainstorming, imagining and conducting research on the Internet and at toy and hardware stores, they developed a prototype of their idea: a bilingual (English and Spanish) "talking and teaching" jump rope.
The students, who call themselves the "Maple Rockers," have been invited to present their invention, dubbed "Jump N' Genius," at the May 16 Sally Ride toy competition at the U.S. Patent and Trademark Office in Alexandria, Va. Their toy is entered in the "Toys That Teach" category.
The TOYchallenge is sponsored by Sally Ride Science and is open to students in grades 5-8 as a way to promote interest in math and science careers, especially among girls. Ride, who was the first American woman to fly in space, founded Sally Ride Science to support girls who are, or might become, interested in science, math and technology.
About 300 teams registered for the competition this year with the top 75 teams participating in the seventh annual national competition. Each team has one coach and three to six students, consisting of at least 50 percent girls. One grand prize will be awarded, and one team will be named the winner in each theme category.
"This is Fullerton's 'Akelah and the Bee' real-life story," said Zuniga Dunlap, referring to the feature film about a young girl who participates in the national spelling bee. "The team, and their families and teachers, are thrilled to have this unexpected opportunity."
The young inventors are Carolina Franco and Jessica Gaona, both fifth-graders at Maple Elementary in Fullerton and members of the school's Honor Society; and Rebecca Rodriguez, a sixth-grader and former student at Maple, who now attends Mariposa Elementary School in Brea. Rodriguez's former teacher, Devi Lam, earned her teaching credential after completing Cal State Fullerton's multiple-subject credential program and will be attending the competition with the students.
"It's been really fun," said Gaona, who loves to jump rope. She added that Zuniga Dunlap "inspired us to build a toy."
While designing a toy is a great way to learn about science and engineering, Zuniga Dunlap said, she also pointed out that neither she nor the girls knew anything about how to make the electronic jump rope work.
Zuniga Dunlap, who is serving as the girls' coach for the competition, enlisted the help of colleague Mostafa (Mo) Shiva, chair and professor of electrical engineering at Cal State Fullerton.
Shiva met with Zuniga Dunlap and the girls and gave them some ideas about how to develop their project.
Shiva told the girls that electrical engineering is one of the fastest-advancing fields today and how the contributions of electrical engineers touch people's daily lives.
Starting with the alarm clock and the coffeemaker in the morning, to the garage-door opener, a car's remote door opener and navigation system, the elevators, room lights, projectors in classrooms, as well as popular gadgets and applications, such as cell phones, digital calculators, computers, text messaging, iPods — all are made or invented by engineers, he said.
"Engineering is a very interesting and rewarding field of study where you learn how things work and how to make them," Shiva explained.
Shiva called the students' project "great and interesting," but told them that it involves complex electronics.
"We wanted to make a microchip for the handle, and then we saw you would need a lot of technical stuff we don't have," Franco said.
The girls had to come up with a working model of their invention themselves and within a limited time frame, so they talked about a simpler version of the concept, with added descriptions of the possible expanded features, Shiva said.
"As an educator, I am interested in educating and helping students," he said. "These young ladies are extremely bright with an excellent idea for a jump rope, which would help people get their workout while they learn.
"I certainly hope that their project will inspire them to pursue a college education, and with their interest in electronics and mathematics, I hope they will choose a career in electrical engineering."
For the prototype, instead of using a microchip, the girls decided to use a CD player in a fanny pack, which is connected to a speaker. Franco, Gaon and their teacher, Stephanie Williams, recently spent an afternoon in the College of Education's new podcasting lab, recording bilingual jump-rope chants, songs and math facts for their prototype.
What is exciting about their invention, the classmates agreed, is it could land on toy store shelves.
"Who would have thought we would be inventors?" Franco said, adding that she and her teammates hope to win the competition.
While the girls were surprised that their invention was a finalist in the competition, their teacher was not.
"They are all gifted and have the capability," said Williams, who also will accompany the students to the competition. "They think outside the box, and they have a lot of potential to do great things in their lives."
To have a mentor like Zuniga Dunlap has been an invaluable experience for the girls, Williams added.
"The girls have been motivated to reach their potential," said Williams, who recently participated in a College of Education program that assists teachers in becoming more accomplished. "Dr. Zuniga Dunlap has been very committed, and she has guided them and worked hard to be a friend and mentor, and to teach them what it means to be a dedicated young lady."
"I just try to have fun with the girls, expose them to the many wonderful opportunities available all around them, and challenge them to see themselves as university students and, eventually, engaged in a career that is meaningful to them," she said.
Zuniga Dunlap, whose career has focused on helping English learners succeed, wanted to volunteer in the community and work one-on-one with young Latinas.
She met with Susan Mercado, the principal at Maple Elementary, and together they developed a plan: Zuniga Dunlap would mentor three Latina girls and meet with them once a week to have fun and do interesting things.
Since she began mentoring them last October, Zuniga Dunlap has taken her young pupils on a tour of Cal State Fullerton, UC San Diego and St. Jude Medical Center. In December, she took them to see the holiday decor at Roger's Gardens in Newport Beach. The girls have made greeting cards and crafts and also dined at the home of CSUF President Milton A. Gordon, in celebration of Black History Month.