Mohinder Grewal Named Outstanding Professor
GPS Innovator and Educator Receives Top Faculty Honor
A noted educator and internationally recognized authority on satellite global positioning has been named Cal State Fullerton's Outstanding Professor for 2009.
Mohinder Grewal, professor of electrical engineering and a faculty member since 1975, was stunned yesterday when faculty members and administrators led by CSUF President Milton A. Gordon walked into a meeting about satellite communications to present him with the award.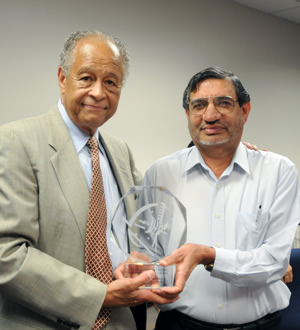 President Milton A. Gordon congratulates Mohinder Grewal on winning this year's Outstanding Professor Award. Photo by Kelly Lacefield
"Each year, one of the university's 2,000 faculty is chosen as the best," Gordon said as he walked over to stand next to the honoree. "Guess who it is this year? Professor Grewal!"
The two dozen students at the meeting loudly applauded as Gordon presented the professor with a crystal trophy engraved with a picture of a communications satellite and words declaring Grewal the 2008-09 Outstanding Professor Award honoree.
"I'm not going to read the list of his accomplishments," said Gordon, brandishing several printed pages. "It's two pages long!"
"Congratulations, Dr. Grewal. This award is probably 20 years overdue, but that makes it all the more special," said Raman Unnikrishnan, dean of the College of Engineering and Computer Science.
Grewal, who earned his doctorate at USC, enjoys an international reputation for contributions to the development of the space-based positioning, navigation and timing systems that lie at the heart of the increasingly common global positioning technology found in everything from smart phones to navigation systems. He holds two patents with a third patent application pending, all for algorithms related to global positioning and navigation.
Dorota Huizinga, former associate dean of ECS and now associate vice president for graduate studies and research, added: "I'm so happy for you. I have to tell you, whenever I hear my GPS talking to me, giving me directions, I think of you."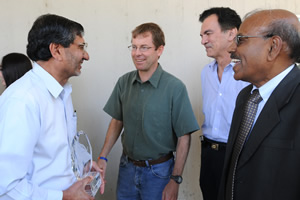 Mohinder Grewal is congratulated by Scott Hewitt, chair of the Academic Senate and professor of chemistry and biochemistry; Mostafa Shiva, chair and professor of electrical engineering; and Raman Unnikrishnan, dean of the College of Engineering and Computer Science. Photo by Kelly Lacefield
"Your accomplishments are so wonderful, so impressive and you're a wonderful teacher," added last year's Outstanding Professor Award recipient Stella Ting-Toomey, professor of human communication studies.
Scott Hewitt, chair of the Academic Senate and professor of chemistry and biochemistry, said, "This honor is deserved, and your membership is a credit to the Academic Senate."
"I'm surprised and stunned," Grewal said, clearly struggling for control. "I have to give credit to my students, staff and colleagues. This would not have happened without their support all this time. Thank you, thank you."
Recipients of the award must demonstrate a record of superlative teaching and distinguished scholarship on a national or international scale, have contributed to the stature of the university and to the California State University system and been of service to the campus and the community in ways related to their teaching.
Crediting the Support of Students and Peers
Grewal is quick to credit students and colleagues for his achievements.
"I have had so many good ones, and they made me think and delve. They asked questions I couldn't answer, and in trying to find answers, I was sent in new directions. As they developed, they worked with me, and many of them now are successful at places like Raytheon and Boeing and other corporations, and as educators. I still work on projects with some of them."
His students and colleagues are just as quick to return the favor.
Former students and alumni, like Laura Cheung (M.S. electrical engineering '01), principal systems engineer for Raytheon Co. who has known Grewal for a decade as a student, a mentor and a colleague, was lavish in her praise: "As his student at Cal State Fullerton, I benefited greatly from Dr. Grewal's instruction. His exemplary work in developing and teaching GPS and Kalman filtering classes has made CSUF one of just a few universities in North America to offer such high-quality and valuable GPS instruction."
Satinder Singh (M.S. engineering-electrical '87), president and chief executive officer of the California-based international company Future Computer Solutions Inc., said studying with Grewal changed his outlook. "I had the pleasure of being in three of his courses, and I found Dr. Grewal to be not only most interesting and engaging in his lecture but, more importantly, I found him inspiring. He ignited a deep interest in everything he touched and drew me into what were, for me, uncharted territories.
"Moreover, his mentorship did not terminate when I completed my studies and moved into the corporate world," Singh said. "He made himself readily available. I availed of it freely when I found myself up against a formidable problem. He continued to be generous with his guidance."
Grewal's positive relationship with his students has continued unabated over the years. Master's in electrical engineering graduates from 2008, Malia Harris, chief engineer, and Kenny Dang, systems engineer, in the California division of Texas-based of DRS Sensors and Targeting Systems, co-authored a letter of recommendation for Grewal, citing his roles as teacher and mentor.
"Over the last three years, we have taken many courses with Dr. Grewal. We feel he surpasses most instructors in his passion for his work and his ability to engage others," they noted. "His excitement for his work is contagious [and], he also is extremely supportive of the students around him and encourages them to challenge themselves."
Phyllis Harn, an administrative support coordinator in the Electrical Engineering Department for more than two decades before retiring in 2007, sang the professor's praises with obvious enthusiasm. "There are many great educators at CSUF. However, to be an Outstanding Professor, you need something special," Harn said. "I believe when you combine the professional accomplishments of Dr. Grewal with the utmost respect he has earned from everyone, you have that winning combination."
"Dr. Grewal's student evaluations are among the highest in the department; in fact they are always in the top two … He is the sole adviser of all new graduate students who apply to our program and does the initial evaluation and advising for every single applicant to our master's in software engineering program," noted Mostafa Shiva, chair and professor of electrical engineering. "Dr. Grewal has earned national and international recognition by his scholarly activities, research and publications. His performance is exceptional in all areas. He is a one-of-a-kind teacher who achieves the highest levels of excellence."
Professional Accolades
Gerard Lachappelle, professor of geomatics engineering and chair of the Wireless Location Department at Shuclich School of Engineering, University of Calgary, Alberta, Canada, and a two-decade industry veteran in navigation research and development, contends that Grewal's contributions to the field of satellite and inertial navigation have made him "without question one of the academic leaders in this field worldwide.
"His book 'Kalman Filtering Theory and Practice Using MATLAB' has become one of the few standard books for students and research engineers in the field of navigation. His book 'Global Positioning Systems, Inertial Navigation and Integration' has equally been accepted in our community. And he has contributed massively to the training of professionals through regular and high-quality short courses," said Lachappelle.
The Orange County Engineering Council honored Grewal last spring with the Excellence in Engineering Education Award, its highest award for an educator. The council acts as the umbrella organization for the technology-rich county, which includes dozens of engineering groups, corporations and educational institutions.
Roboticist Sam Rokni (B.S., M.S. electrical engineering '05, '07), now an engineering lecturer at Cal State Fullerton, said Grewal showed him connections to robotics he hadn't yet considered. Incorporating GPS and space-based navigation, like those used for airplanes, package tracking and cell phones, was a big one. "He helped me see how it could apply to my field."
GPS World named Grewal one of the "50+ Leaders to Watch" in the world in 2007 and 2008 for advancements in space-based positioning, navigation and timing systems. In addition to his two co-edited books, he has authored and co-authored dozens of articles and papers on navigation and global positioning and has given many presentations, lectures and seminars internationally.
Recognition at Commencement
As the 2008-09 Outstanding Professor Award recipient, Grewal will be recognized at the university's May 22 Honors Convocation and will lead the faculty at the May 23 and 24 commencement ceremonies. He will receive a $4,000 cash award from the President's Associates and will present a public lecture next spring.
Zvi Drezner, professor of information systems and decision sciences and the recipient of the 2005-06 Outstanding Professor Award, chaired the Outstanding Professor Selection Committee.
Grewal resides in Anaheim Hills and is currently on sabbatical pursuing research in inertial navigation.
Photos:
Available online at www.fullerton.edu/newsphotos