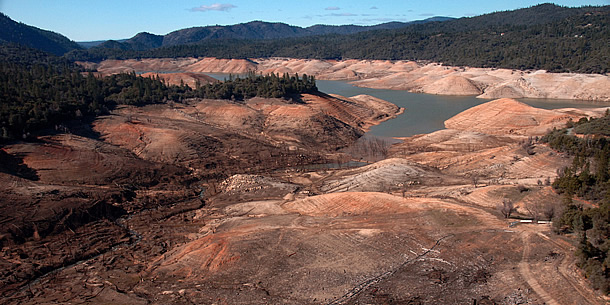 Lake Oroville, South Fork of the Feather River, Feb 4, 2008. Photo courtesy of CA Dept of Water Resources
"Running on Empty: The So Cal Water Crisis"
Town Hall on April 23 Focuses on California's Water Shortage
What:
"Running on Empty: The So Cal Water Crisis" will be the topic of discussion at a free town hall/panel discussion at Cal State Fullerton, Thursday, April 23. The event will include a screening of segments of the "OC Insight" television program of the same name. This program is moderated by Roger Cooper, reporter for KCET's award-winning "Life & Times" series, which aired from 1992-2008. "OC Insight" airs on the new KCET Orange digital channel. The program features speakers Jim Thebaut, writer/producer/director of the PBS documentary "The American Southwest: Are We Running Dry?" — segments of which will be shown — Timothy Brick, chair of the board of directors of the Metropolitan Water District; and Michelle Mehta, attorney with the Natural Resources Defense Council.
When:
Thursday, April 23
6:30 reception, 7 p.m. screening
Where:
Titan Theatre of the Titan Student Union
Cal State Fullerton, 800 N. State College Blvd., Fullerton, 92831
Panelists:
Thebaut and Anthony Fellow, chair and professor of communications at Cal State Fullerton and director of the Upper San Gabriel Valley Municipal Water District.
Additional:
Thebaut will be presented with the Department of Communications' Communicator of the Year award. This award is presented to a person who has developed a continuous body of work in the field of communications and made a significant achievement.
More Info:
For more information or to RSVP, contact Tanya Abalos at 657-278-2185.