Rick Muth Family Chair in Family Business Named
Appointee Is First Endowed Chair for Cal State Fullerton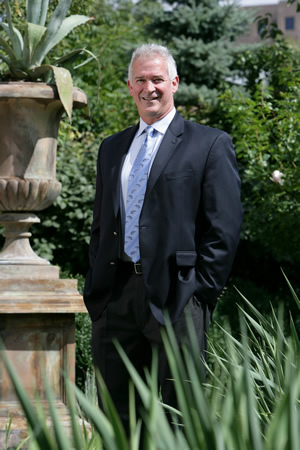 Thomas V. Schwarz
Cal State Fullerton's Mihaylo College of Business and Economics has named Thomas V. Schwarz as the first to be accorded the title Rick Muth Family Chair in Family Business. The university's first-ever endowed chair stems from a successful fundraising drive led by major donor Rick Muth, president of Stanton-based Orco Block.
Muth, a founding member of the university's Family Business Council, launched the endowment campaign effort in 2006, contributing a major portion toward the $1.5 million goal.
"I'm glad to be part of something that is so positive and very important to the community," said Muth at the start of the campaign. "Family business quite often equals small business, which has been part of the growth of our country for some time. I think this is an opportunity to help make something that is so important, better."
Schwarz, who joins Cal State Fullerton's Management Department in the fall, will teach courses, conduct research, help develop curriculum, advise students in family business and serve as an integral member of the Family Business Council, one of about 104 such university-managed centers in the country, according to statistics kept by the Family Firm Institute in Boston.
"Family businesses play a very important role, not only in Orange County, but also in the national economy. Our college is committed to support this segment of business, especially those entrepreneurial family businesses," said Anil Puri, dean of the university's Mihaylo College of Business and Economics.
"Tom Schwarz will be the educational leader and will provide critical support to the Family Business Council, the most successful family business organization in Southern California.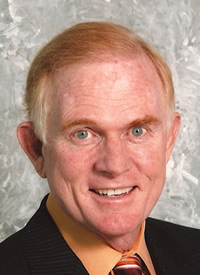 Rick Muth
"Rick Muth and the members of the Family Business Council deserve recognition for their support in establishing this first-ever endowed chair on campus," said Puri. "Rick Muth's commitment is an inspiration to alumni and friends of the college to join in our campaign to make this a premier business school in the region."
Since 2000, Schwarz has served as director of the Center for Free Enterprise, Family Owned Business Institute and Center for Entrepreneurship at Grand Valley State University in Grand Rapids, MI.
"Tom Schwarz brings energy and enthusiasm, as well as a grounded approach, to working with family business," noted Joseph H. Astrachan, executive director of the Cox Family Enterprise Center and Wachovia Eminent Scholar Chair of Family Business at Kennesaw State University. "Tom has a wealth of knowledge and international connections that make him an incredible asset to any community."
During his tenure at Grand Valley State, Schwarz helped develop the business concept, vision and strategic plan for the center and the institute, developed relationships with the business community, developed curriculum and conducted research into entrepreneurship and family business. He also developed and conducted programs for several business competitions, a teen entrepreneurship academy and a family business and entrepreneurship program in India.
Schwarz worked with the area's Small Business and Technology Development Center, local chambers of commerce and other business organizations, developed an alliance with the Family Firm Institute and was co-founding editor of the online publication Family Business Practitioner. He also served as a visiting professor of entrepreneurship at the Athens University of Economics and Business in Greece.
"Tom Schwarz is a builder of new programs and initiatives, has that rare ability to bring faculty members from diverse disciplines together, while at the same time building relationships with the business and professional communities," said longtime associate Pramodita Sharma, professor of management in the John Molson School of Business, Concordia University in Montreal and editor of the Family Business Review.
"Having Tom join us is value added, big time," said Mike Trueblood, director of the Family Business Council. "He brings teaching and research resources that will enable the council as a center of excellence in the Mihaylo College of Business and Economics, to grow and fulfill its mission of supporting family businesses both academically and in the real Orange County business world.
"It also enables me, as director of the council, to concentrate my energies and talents on behalf of the 45-50 family enterprises that make up the council membership, to grow that membership and bring even more resources to bear for the members from Mihaylo College faculty, our other centers and from our sponsoring partners," added Trueblood.
"I'm very excited about this position because of the vision that is being laid out," said Schwarz. "During the interview process, I was amazed at how members of the family business community took the time to be engaged and involved in the process, showing tremendous interest in moving forward to the next level. This position, and the fact that it is endowed, provides many opportunities to do so. Our work will have real impact for the region.
"I'm also impressed with the faculty and administration at the college — their research record and energy. Family business is a new opportunity for collaboration between the different fields of business — its importance, I believe, is greater than any other form of business in its potential to impact the community and families," said Schwarz. "Such efforts can move Cal State Fullerton and Mihaylo College within the elite of family business research."
Prior to joining Grand Valley State University, Schwarz was a partner in Distance Learning Dynamics Inc., founder and president of NuGardener LLC, and chief operating officer and treasurer for Ampro Industries Inc. He previously taught at Southern Illinois University and University of Nevada, Las Vegas.
Schwarz earned his doctorate in business administration from Florida State University and holds an M.B.A. and bachelor's degree from the same institution. He is a member of the United States Association for Small Business and Entrepreneurship, Academy of Management, International Family Enterprise Research Association, American Finance Association and Association for Corporate Growth.
Rick Muth
Muth joined his family-owned business in 1975 as assistant office manager and moved up the ranks to the leadership position he holds today. He was honored as California Small Business Person of the Year in 2003, has served as president of the Concrete Masonry Association of California and Nevada, and in 1995, chaired the National Concrete Masonry Association. In 2007, Muth was awarded the Orange County Titan Award at the university's Front & Center gala and in December, was named to the Cal State Fullerton Philanthropic Foundation.
Established by Muth's father more than 60 years ago, Orco Block Co. is one of the nation's top-10 concrete block manufacturers, producing more than 500 stock items and maintaining an ongoing emphasis on product research and development, quality-control testing and supporting technical studies.
Family Business Council
The Family Business Council was established in 1995 as a partnership between the business community and the university. Its mission is to enhance the well-being and survivability of family businesses by providing opportunities for education, interaction and information tailored to the needs and concerns of business. In addition to monthly workshops, the center offers several peer-group affinity discussion meetings and is involved in the university course "Family Business Dynamics."
Mihaylo College of Business and Economics
Cal State Fullerton's Mihaylo College of Business and Economics is a nationally recognized and accredited comprehensive business school, offering graduate and undergraduate degree programs developed by faculty members who integrate classroom education with the best business practices, technology, award-winning research, functional applications and real-world experience.
The largest accredited business college in California, Mihaylo College is among 25 percent of business schools nationwide to be accredited by the Association to Advance Collegiate Schools of Business, and its accounting program is among the few with a separate AACSB accreditation. The college is included in the Princeton Review's 2009 "Best 296 Business Schools," a ranking based on each school's students, physical environment, admissions requirements, teaching ratios and programs.
Photos are available online at www.fullerton.edu/newsphotos.