March 7 Student Leadership Conference
Program Encourages Students to Be 'Architects of Change'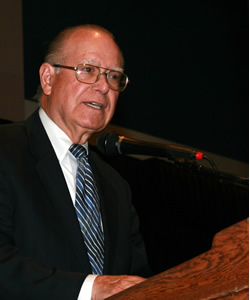 Cruz Reynoso
What:
"The Building Blocks of Leadership … Be the Architect of Change" is the theme of Cal State Fullerton's annual University Leadership Conference for college and university students from throughout the Southland. The March 7 daylong event features motivational speakers, skill-building workshops and a community service drive. An "involvement fair" will feature information on volunteer and student leader opportunities.
Who:
Tim Gard, who uses humor to reduce stress, will deliver a 9 a.m. presentation on his "Comic Vision" to improve relationships and turn adversity to an advantage.
Cruz Reynoso, the first Chicano to serve on the California Supreme Court who recently was appointed to President Barack Obama's Justice and Civil Rights Agency Review, will give a 4 p.m. talk on being an architect for social change. Reynoso, a UC Davis law professor, is an internationally known civil rights leader and recipient of the Presidential Medal of Freedom.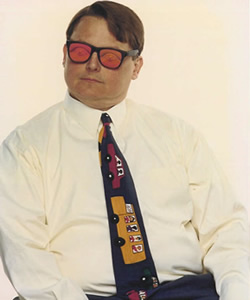 Tim Gard
Kristina Beverly, a communications major with a concentration in public relations, is the student director of the conference. "With the country the way it is, I think it is more important now than ever for young people to take an active role and make positive changes in the community, " she said. "Leadership skills are essential to make a positive impact — whether in school, work or in your interpersonal relationships."
When:
Saturday, March 7
8 a.m.- 5 p.m.
Where:
Portola Pavilion, Titan Student Union, Cal State Fullerton
800 N. State College Blvd., Fullerton, 92831
Additional:
The conference gives students the opportunity to explore their leadership potential, gain valuable skills and knowledge to become strong leaders; meet fellow students through networking opportunities; and complete leadership training. Attendees will earn certificates of leadership.
Kristina Beverly
Why:
"The conference is an excellent opportunity for participants to devote a day for self-improvement and learn the building blocks or skills needed to become a successful leader," said Juanita Razo, Cal State Fullerton associate dean of students. "Most important, we hope to communicate the importance of living one's life with purpose, vision and a desire to make change — this is what leadership is all about."
Cost:
Advance registration is requested. Cost is $15 for Cal State Fullerton students and $20 for others, if registered by March 5. Cost on the day of the event is $20 for CSUF students and $25 for others. Fee includes continental breakfast, lunch and conference materials. To register or for more information, visit the leadership conference website.
Community Service Project:
As part of the daylong conference, planners and the Volunteer & Service Center are seeking donations of school supplies to benefit the Step Ahead Project at Kings Elementary School in Santa Ana. Step Ahead provides local elementary schools with school supplies, books and other resources to enhance learning. Donations are being collected until March 6 at various campus locations, as well as at the conference. For more information, 657-278-3211 or e-mail leadershipconference@fullerton.edu.
Photos:
Available online at www.fullerton.edu/newsphotos