O.C. Sheriff to Discuss Her Agenda
Sandra Hutchens Addresses OC Issues March 2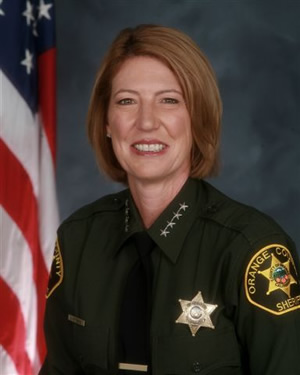 Sheriff Sandra Hutchens
Who:
Orange County Sheriff Sandra Hutchens will visit Cal State Fullerton next month to give an invited address. Hutchens will talk about her job, her personal history, issues facing Orange County and her agenda. She also will provide information about careers in the criminal justice system.
When:
March 2, Noon
Where:
Portola Pavilion of the Titan Student Union
Cal State Fullerton, 800 N. State College Blvd., Fullerton 92834
Background:
Hutchens became Orange County's 12th sheriff in June 2008. She was a retired division chief from the Los Angeles County Sheriff's Department, where she spent nearly three decades. She succeeded Michael S. Carona, who resigned last year amid allegations of corruption.
Sponsors:
Gamma Rho chapter of the Alpha Phi Sigma, the national criminal justice honor society; the College of Humanities and Social Sciences; and the Division of Politics, Administration and Justice.
Info:
657-278-8475 or http://csuf-alphaphisigma.webs.com