Eggs on Concrete
OC Students Drop Eggs, Fly Gliders, Loose Catapults on MESA Days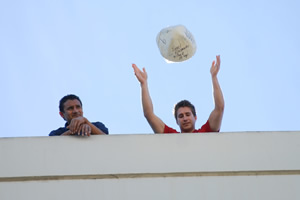 Officials drop a package from the Humanities-Social Sciences Building roof during last year's EggXpress egg drop.
About 400 middle-school students from five area school districts will storm Cal State Fullerton Wednesday, Feb. 25, followed by a second wave of 350 high-schoolers from four districts a week later on March 4. They bring their eggs, catapults, foil barges, paper cars and working windmills. They also bring their engineering knowledge and creativity to compete in the 26th annual Mathematics, Engineering, Science Achievement/Engineering and Computer Science Day (MESA Day) tournament at the campus (schedule follows below).
Awards and bragging rights go to those triumphant in the fair-like competition's many events.
The most-watched event each year is the EggXpress egg drop. Using only materials specified by the national MESA headquarters as protection, students must keep eggs unbroken and unchipped after their packages plummet from the top of the Humanities-Social Sciences Building to the concrete courtyard six stories below. No flotation devices, like parachutes, allowed; the packages must plunge at the speed of gravity.
Below, judges, with hand wipes close at hand, immediately open the packages and count the number of eggs — and the number of those still unbroken. Student teams' groans and whoops of triumph are audible three buildings away.
A judge opens the package to count the number of eggs ... and the number of them still intact.
Another event involves building trebuchets, small-scale replicas of the massive siege weapons developed in China in the first century BCE. These devices then made their way into European arsenals in the 12th century. Warfare trebuchets often stood as high as 30 feet. While fashioned out of heavy timbers, they needed fine adjustments to be effective. They could fling stones weighing hundreds of pounds, or burning bundles, high over castle walls, raining down destruction and terror on the inhabitants of a besieged castle.
MESA students construct smaller models, measuring about three feet high, out of metal, PVC pipe and/or wood, designed to hurl hacky sacks about 40 feet when competing for distance and about 20 feet when competing for accuracy. While MESA trebuchets are smaller than those used in medieval warfare, the engineering problems are exactly the same. The students work in teams over a four-month period, sometimes making adjustments right up to their turn.
Other competitions include building bridges with a specified number of manila folders and tape, other bridges with Popsicle sticks and yet others with balsa wood. Each bridge is then loaded with weights until it breaks. Barges made of drinking straws and foil are weighted with pennies until they sink. Cars powered by mouse traps race on a track for distance; and windmills that move water from one container to another are compared to see whose is fastest.
Other competitions involve paper cars powered by air currents, models of internal organs, perfect crystals grown using only certain chemicals and materials, Web-based scavenger hunts, speeches and mathematics contests.
The specifications for all the competitions were disseminated to the 1,100 MESA students in the CSUF chapter and the dozens of science and math teachers who served as their advisers last fall. The nearly 800 students who decided to participate in MESA Day were then allowed to design, test and refine their entries until the tournament. But, when the competition begins, the students are on their own. Their advisers will judge other events, along with about 25 students and five faculty members from the university's College of Engineering and Computer Science (ECS). ECS co-sponsors the event and is home to the Fullerton MESA chapter's offices.
Raman Unnikrishnan, ECS dean, offered an engineering educator's point of view: "Design is all about seeking and finding solutions for problems, and doing so under the constraints of money, time, materials, technology and available personnel. MESA has done an outstanding job of introducing engineering to the precollege community. This competition reinforces everything every prospective engineering student needs to know."
Still, this is about more than just fun and design, said Vonna Hammerschmitt, director of the Cal State Fullerton chapter of the MESA program. "The students see a university close up, some of them for the first time. MESA's purpose is to serve students in area schools who are educationally disadvantaged, have had little exposure to higher education and may consider a university education out of reach."
"Students who have participated in MESA for a few years start to feel pretty comfortable on a college campus ... They feel like they belong there," said Russ Hill, a science teacher at Villa Intermediate School in the Santa Ana Unified School District. Hill is a six-year MESA veteran and recent member of the state MESA Advisor Training Committee.
Steve Nelson, a science teacher and founder of the Costa Mesa High School MESA program, recalled a poignant moment from June 2007 that involved his MESA team. The team competed in the national MESA Design Competition for trebuchets, held in Maryland. Driving back from Baltimore after his team had placed first in California and third nationally, they were discussing what they had learned in MESA and what it meant to them. One of his students said: "Mr. Nelson, the top five high school engineers in California are riding in this van," an observation that produced smiles all around. Then, last June, just before he retired, his next team exactly duplicated the feat.
"Being a MESA adviser has been the very best part of my teaching career," Nelson said. "Other students may select engineering as a college major, but my students know they are engineers."
The CSUF chapter has grown from 175 students in six high schools in two districts 23 years ago to 1,100 students from 20 intermediate and high schools in six districts. Last year, 110 MESA students graduated and were accepted by CSUF, Stanford, MIT, UCLA, UC Berkeley, UC San Diego, UC Riverside, UC Irvine, UC Santa Barbara, Cal Poly Pomona, Humboldt State University, Irvine Valley College, Santa Ana College and Santiago Canyon College.
The CSUF chapter also receives support from Google, Beckman-Coulter, Oracle and Johns Hopkins University. This is in addition to annual funding from the state Legislature and grant money distributed by MESA headquarters, which, among other expenses, pays the directors' salaries. In addition, students at each participating MESA school spend a class period each day meeting with each other and their advisers. The schools also fund stipends to the science and math teachers who work with MESA students and provide school buses to take students to events like MESA Day. The national MESA program is administered by the University of California Office of the President from offices in Oakland.
MESA began in a single high school in Oakland in 1970 to encourage students to become interested in science, technology, engineering and mathematics (STEM) disciplines. Each chapter partners with area schools to provide STEM enrichment opportunities, including tutoring, mentoring, college advisement, MESA Day and Saturday Academy, a series of weekend classes focusing on subjects such as robotics. MESA has become a national model, serving nearly 18,000 students.
According to state statistics posted on the MESA Web site, from 2006-07 — the latest figures available — almost 82 percent of MESA students go directly to college, compared with 47 percent of all students.
College and university engineering students also benefit from MESA. Career advising, academic help, workshops and links to professional organizations are provided. Industry advisory boards are formed to provide workshops, field trips, internships and scholarships.
Feb. 25 MESA Day Schedule
Intermediate school student competitors
CS = Computer Science Building, E = Engineering Building
9-10 a.m.:

Model Science — building models of internal organs then answering questions, CS 102B
Soil Science — determining the density, texture and acidity of soil samples, Quad
Crystal Judging — growing crystals using specified chemicals and materials, E 101
Straw towers — building free-standing towers using only drinking straws and tape, E 42
Foil Floaters — building cargo-holding barges of drinking straws and foil, E breezeway
Web Scavenger Hunt — looking for answers on the Web to a list of questions, CS 408
Campus Scavenger Hunt — registration table in the Quad
Campus tours — registration table in the Quad

10:10-11:10 a.m.:

Model Science Questions, CS 102B
Speech — speaking on given topics using visual aids and materials, CS101
Stick Together — building load-bearing bridges with popsicle sticks, E11
Mousetrap Cars — racing mousetrap-powered cars for distance, E 24
Trebuchets/Catapults — lobbing loads for distance, then for accuracy, ECS lawn
Foil Floaters — Engineering Building breezeway
Web Scavenger Hunt — CS 408
Air-Powered Paper Vehicles — designing/building paper vehicles powered by air currents, E 42

11:15 a.m.-12:15 p.m.:

Team Math Quest — solving non-routine mathematical problems, outdoor tent
Speech — E101
Manila-Folder Bridges — building load-bearing bridges with two manila folders and tape, E11
EggXpress Egg Drop — dropping eggs six stories without breakage, Humanities-Social Sciences Building
Straw Towers — E 42
Foil Floaters, — Engineering Building breezeway
Web Scavenger Hunt —CS 408

12:15-1 p.m.: lunch

1-1:55 p.m.:

Awards, outdoor tent
March 4 MESA Day Schedule
High school student competitors
CS = Computer Science Building, E = Engineering Building
9-10 a.m.

Speech — CS101 and 506
Speech — E 202
Web Design Presentations — showing and explaining Web sites built to specifications, CS 102B
Windmill Challenge — building windmills that must outwork other windmills at certain tasks, E 24
Straw Towers — E 42
Foil Floaters —Engineering Building breezeway
Web Scavenger Hunt — CS 408
Campus Scavenger Hunt — registration table in the Quad
Campus tours — registration table in the Quad

9:30-11 a.m.:

Model Science Judging — outdoor tent
Trebuchets/Catapults — ECS lawn

10-11 a.m.:

Manila-Folder Bridges — E11

10:10-11:10 a.m.:

Foil Floaters — Engineering Building breezeway

11 a.m.-noon:

Gliders — flying hand-launch, handmade balsa wood gliders, lawn

11:15 a.m.-12:15 p.m.:

Math Quest — all levels, outdoor tent
Straw Towers — E 42
Foil Floaters — Engineering Building breezeway

11:30 a.m.-12:30 p.m.:

Model Science questions — CS 401

Noon-1 p.m.:

Stick bridges —building load-bearing bridges using Popsicle sticks, E 11

12:30-1:30:

EggXpress egg drop — Humanities-Social Sciences Building
Mousetrap cars — E 30

1:45-2:30 p.m. :

Awards —outdoor tent