CSUF Named to Presidential Honor Roll for Community Service
'1 Million Hours of Service' Campaign Begins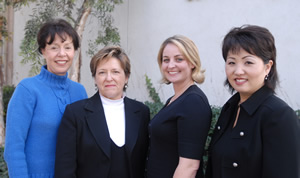 Caring for seniors is the goal of the WECARE program offered through the Center for Internships & Service-Learning and the Institute of Gerontology. Among the participants are, from left, WECARE Project Director Adrienne Stokols, community member Pat Trotter, student Melanie McCook and Jeannie Kim-Han, center director.
Cal State Fullerton students gave 940,186 hours of service in 2007-08, earning the university a prestigious place on the U.S. President's Higher Education Community Service Honor Roll.
This is the second consecutive year the university has received the national honor for its exemplary service to the community. Selection to the honor roll is the highest federal recognition an institution can achieve for its commitment to service-learning and civic engagement.
"Community engagement is at the heart of what we do at Cal State Fullerton," said Jeannie Kim-Han, director of the university's Center for Internships and Community Engagement. "Cal State Fullerton has made community service a campus priority, and our students are making a difference in the local communities through service-learning, academic internships, clinical fieldwork and volunteering."
Cal State Fullerton students are participating in a broad range of course-related service and fieldwork, as well as service programs offered through the Center for Internships and Community Engagement, the Volunteer & Service Center, Associated Students, and campus clubs and organizations.
"We're delighted that the campus has received this national recognition again, and we're proud of the students, faculty and staff who are willing to integrate service into what they do," Kim-Han said.
Honorees were chosen based on a series of selection factors, including scope and innovation of service projects, percentage of student participation in service activities, incentives for service and the extent to which the institution offers academic service-learning courses.
In 2007-08, the number of community service efforts increased substantially over 2006-07, when the university recorded a total of 715,061 service hours. Last year, more than 14,000 CSUF students participated in community service activities, up from about 9,000 the previous academic year.
Two new graduate programs in nursing and social work contributed to the big boost in service hours last year, noted Kathleen Costello, assistant director of the Center for Internships and Community Engagement. For these programs, students are required to perform clinical fieldwork. The majority of community service efforts are made through academic internships and service-learning course work, Costello explained.
"Being named to the honor roll demonstrates that the campus engages the community in all that we do — and that engagement with the community is integrated into what students learn and how they learn it," Costello said.
One Million Hours and Counting
It's expected that for the 2008-09 academic year, students and others on campus will achieve more than one million hours of service, Kim-Han said.
To heighten awareness about the community service opportunities and to quantify service hours performed by faculty and staff members, as well as by students from campus clubs and organizations, the Center for Internships and Community Engagement is launching a "1 Million Hours of Service — Make Your Hours Count" campaign.
As part of the campaign, the center is asking faculty and staff members, as well as students in campus clubs and organizations to log service hours in an effort to reach one million hours of service this year.
"We want to encourage faculty, staff and students to make their hours count by recording their service hours," Kim-Han said. "We hope to go above and beyond our earlier achievements and capture more of the service accomplishments achieved."
Students clubs particularly are being encouraged to record service project hours this spring. Four new cash awards have been established to honor organizations' achievements. The awards will be given in two categories: most service hours completed by club members and the impact club members' service had on the community. The purpose served by the projects also will be a factor in judging.
The campaign will continue through June 30, and campus members wishing to log their service hours will be able to do so through the university portal.
Recent studies have underlined the importance of service-learning and volunteering, especially among college students. In 2006, 2.8 million students gave more than 297 million hours of volunteer service, according to a 2007 study by the Corporation for National and Community Service, which oversees the honor roll.
Expanding campus incentives for service is part of a larger initiative to spur higher levels of volunteering by America's college students. The corporation is working with a coalition of federal agencies, higher education institutions, student associations and nonprofit organizations to achieve this goal.
The corporation launched the honor roll in 2006, in collaboration with the Department of Education, the Department of Housing and Urban Development, and the President's Council on Service and Civic Participation.
For more information on Cal State Fullerton's efforts, call 657-278-3746 or visit the Center for Internships and Community Engagement online.