CSUF President Taking College Message to Communities
Gordon to Address Carson Congregation Sunday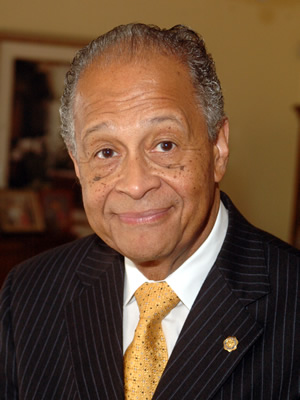 President Milton A. Gordon
Cal State Fullerton President Milton A. Gordon will address congregants Sunday, Feb. 22, at the Glory Christian Fellowship International Church in Carson, as part of a California State University effort to encourage early planning for college and the involvement of community members as mentors for young people.
The CSU's fourth annual "Super Sunday" campaign began earlier this month in northern California, where dozens of CSU presidents, trustees and administrators fanned out to 41 churches serving largely African American congregations.
"At Super Sunday, thousands of students and their families learn that planning for college starts in the sixth grade. We hope to make communities aware of the steps that students need to complete each year to get to college," said CSU Chancellor Charles B. Reed. "We are pleased to say that these efforts are paying off. Since Super Sunday began, the CSU has seen steady increases in African American undergraduate enrollment."
Gordon is scheduled to speak at 9 a.m. and 11 a.m. at Glory Christian Fellowship International Church, 225 West Torrance Blvd., in Carson, during the CSU's visits to 27 churches in Southern California. Following the services, Cal State Fullerton outreach staff members and church education counselors will provide information about the application process for colleges and universities and about financial aid.
Also Sunday, Robert L. Palmer Jr., CSUF vice president for student affairs, is scheduled to speak at 10 a.m. at Long Beach Worship Center Community Church, 855 Elm Ave., Long Beach.
At Cal State Fullerton, the enrollment of black first-time freshmen has risen by 26 percent since fall 2004. It has increased by 100 percent since fall 2000. This year, blacks constitute 5 percent of the 4,697-student first-time freshman class.