White, Nelson & Co. Professor of Accounting Named at CSUF
Vivek Mande Leads Center for Corporate Reporting and Governance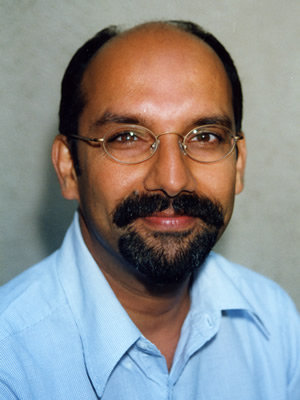 Vivek Mande
Vivek Mande, director of Cal State Fullerton's Center for Corporate Reporting and Governance, has been named the White, Nelson & Co. Professor of Accounting.
The honor stems from a recent $100,000 gift from the Orange County accounting firm to the university's Mihaylo College of Business and Economics.
"We are extremely pleased that alumnus and White, Nelson & Co. Managing Partner Dave Doran and other White, Nelson partners feel so supportive of their alma mater, the college and the accounting program to commit to this level of support," said Betty Chavis, chair and professor of accounting.
Mande was selected in recognition of his outstanding record as a faculty member.
Doran, a 1975 CSUF graduate with a bachelor's degree in business administration with a concentration in accounting, has served with White, Nelson & Co. for more than 30 years. He is a member of the American Institute of Certified Public Accountants and the California Society of Certified Public Accountants.
Seven of the 12 partners in the Irvine-based accounting firm are graduates of Cal State Fullerton, noted Chavis.
"White, Nelson & Co. LLP is a very well-known and highly respected firm in the region, and I'm honored to be selected for this recognition," said Mande. "It's really gratifying to see our alumni doing so well."
A 2001-02 Academic Accounting Fellow at the Securities and Exchange Commission's Office of Economic Analysis in Washington, D.C., Mande joined the faculty in 2002 and was one of the driving forces in the development of the university's Center for Corporate Reporting and Governance.
The center was established in 2003 to address corporate reporting and governance issues facing companies and their auditors in the changing financial environment. It organizes SEC financial reporting training conferences for boards of directors, audit committees, auditors and accountants in Southern California and is accredited by Institutional Shareholder Services, a provider of proxy voting and corporate governance services. The center also is registered with the National Association of State Boards of Accountancy.
Mande is the author of "Accounting for Share-Based Compensation," published in 2006, as well as numerous published articles and papers and that he has presented at conferences throughout the world. He teaches graduate accounting classes, as well as intermediate financial reporting.
His research interests include various issues regarding auditor independence and earnings quality. He also has examined how analysts use financial data to make predictions and the reaction of stock markets to analysts' predictions.
The Irvine resident earned his doctorate in accounting from UCLA and previously taught at City University of New York, Baruch; University of Arizona; and the University of Nebraska, Omaha.
Photo:
Available online at www.fullerton.edu/newsphotos