Reba McEntire to Headline Feb. 28 Front and Center
Grammy Award-Winner to Perform for Cal State Fullerton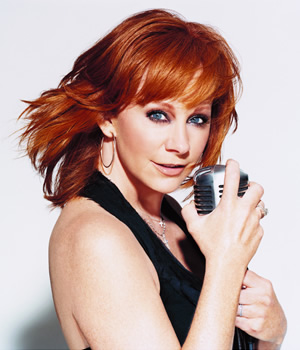 Reba McEntire
Reba McEntire will headline Front & Center, Cal State Fullerton's annual benefit concert, Saturday, Feb. 28, at the Honda Center in Anaheim.
Proceeds from the event will benefit the university's President's Scholars, a program that awards full scholarships to outstanding incoming freshmen who have demonstrated excellence in academic work, leadership ability and community service.
National Hot Rod Association Funny Car driver and Cal State Fullerton alumna Ashley Force Hood will serve as the evening's master of ceremonies.
The event also showcases the singing-and-dancing talents of theatre and dance students, who will perform as part of the 8 p.m. program.
Headliner McEntire is one of the country's most successful female recording artists. She has sold more than 55 million albums worldwide, and 33 of her songs have been No. 1 hits.
She is the winner of two Grammy Awards, seven Country Music Association Awards, nine People's Choice Awards, 12 Academy of Country Music Awards and 15 American Music Awards. She also is an acclaimed film, television and Broadway actress, whose television comedy, "Reba," was a top-rated sitcom for six seasons. In addition, McEntire is an author and designer of the REBA brand, which includes clothing, footwear, home collections and other products.
Late last year, McEntire released "50 Greatest Hits." The album includes her first No. 1 single, "Can't Even Get the Blues," as well as "How Blue," "Only in My Mind," "Walk On," "You Lie" and "Starting Over Again," among others.
In 2007, McEntire's "Duets" album debuted at No. 1 on the pop and country album charts. In it, she pairs with 11 other singers, including Justin Timberlake, Kelly Clarkson, Don Henley, Carole King and Kenny Chesney.
Her albums include: " Reba #1's," "Room to Breathe," "So Good Together," "If You See Him," "Starting Over" and "For My Broken Heart."
Master of Ceremonies Force Hood earned her bachelor's degree in communications at Cal State Fullerton in 2004. The 26-year-old earned her first NHRA Funny Car win in April, beating her legendary father in the NHRA Southern Summit Nationals in Georgia and also became the first female driver to win in the NHRA Funny Car division.
In October, she was named Female Athlete of the Year by the Jim Murray Memorial Foundation. In 2007, she was awarded the Automobile Club of Southern California's "Road to the Future Award," in which she was recognized as NHRA Rookie of The Year.
Front & Center tickets range from $45-$100 for arena seating and can be purchased online or call 657-278-3480.
Prior to the concert, a black-tie dinner will be held in the center of the arena for donors who contribute from $5,000- $25,000 for a table or $600-$1,200 for a seat.
Additional information is available online.