Cal State Fullerton to Host Global Warming Teach-In
Feb. 5 Event to Spotlight University Efforts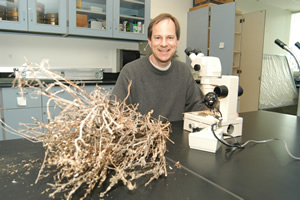 Jochen Schenck
A Feb. 5 daylong "Teach-In on Global Warming" will utilize faculty expertise and student advocates for sustainability to spotlight campus responses to environmental change.
Cal State Fullerton's homegrown event will feature 15 half-hour presentations on a wide range of subjects followed by question-and-answer sessions. The day will include tours of the Fullerton Arboretum, information booths, a nationally based webcast, free refreshments and a drawing for a bicycle.
The 50-minute webcast "Solutions for the First 100 Days" will focus on recommendations from the Presidential Climate Action Project, followed by a panel discussion. Student groups, off-campus groups, Titan Shops and Parking and Transportation will staff the booths.
"We intend to spotlight the many efforts on this campus," said Cal State Fullerton teach-in organizer Jochen Schenk, associate professor of biological science and chair of the university's Academic Senate Subcommittee on Sustainability Awareness. "The university already encourages use of bicycles, public transportation, ride sharing, green buildings, energy conservation, recycling and utilizing the expertise of faculty and the sustainability advocacy of student groups."
The campus event dovetails with the Education for Global Warming Solutions' "National Teach-In on Global Warming" that day, aimed at educating the public on the issue, presenting possible solutions and influencing national environmental policy during the first 100 days of the Obama administration.
"We organized this homegrown event here, on our own," Hewitt said, noting strong participation by faculty, staff and students, as well as sponsorship from Titan Shops. "Some funding was provided by CSUF Transportation Services, but most of the funding is from voluntary contributions."
More than 700 colleges, universities, high schools, faith organizations and civic groups are participating in the national teach-in, and participants are being encouraged to send their opinions to legislators and the White House, especially in video letters posted on YouTube.
The Cal State Fullerton teach-in from 9:45 a.m.- 6 p.m. in the Titan Student Union's Portola Pavilion will begin with the national webcast and follow-up panel discussion.
Scheduled speakers — all from Cal State Fullerton — and their topics include:
11 a.m.
Jindong Wu, assistant professor of geography, "Global Warming, Climate Change and Global Change: Basic Science and Facts"
11:30 a.m.
Michael Smith, director of design and construction, "Green Buildings and LEED Building Standards"
Noon
Zhuangjie Li, assistant professor of chemistry and biochemistry, "Industrial Search for Greenhouse Gas Replacements"
12:30 p.m.
Peter Fashing, assistant professor of anthropology, "Global Warming and Its Impact on Wildlife"
1 p.m.
Joe Ferrer, director of parking and transportation services, "Increasing Use of Public Transportation to CSUF"
1:15 p.m.
Elizabeth Hessom of the Associated Students Inc. Environmental Advocacy Committee, "How to Get Involved With Environmental Student Groups Across Campus"
1:30 p.m.
Scott Hewitt, professor of chemistry and biochemistry and chair of the Academic Senate, "Climate Change: Fact, Fiction and Best Practices"
2 p.m.
Katherine Kantardjieff, professor of chemistry and biochemistry, "Green Information Technology"
2:30 p.m.
Jane Hall, professor of economics and co-director of the Institute for Economic and Environmental Studies, "We're hHeading for the Cliff, But Does it Matter? The Economic Perspective(s)"
3 p.m.
Jonathan Stoddard, assistant professor of chemistry and biochemistry, "Green Chemistry: Making Our Consumer Goods in a More Sustainable Manner"
3:30 p.m.
Jochen Schenk, associate professor of biological science, "Plants as the Solution to Global Warming?"
4 p.m.
Willem van der Pol, director of physical plant, "Greening of the CSUF Campus: Green Buildings, Greener Energy, Recycling"
4:30 p.m.
Justin Tucker, assistant professor of political science, "The Failures of Public Policy and the Role of the Individual in Creating Solutions to Climate Change"
5 p.m.
Jeff Kuo, professor of civil and environmental engineering, "Technological Options for Reducing Non-C02 Greenhouse Gas Emissions"
5:30 p.m.
Scott Hewitt, professor of chemistry and biochemistry and chair of the Academic Senate, "Green Jobs, Green Lives: What Each of Us Can Do to Be More Sustainable and Increase Our Savings"
For more information, contact Jochen Schenk at 657-278-3678 or jschenk@fullerton.edu.