Digitized Boswell Maps to Be Unveiled at Map Society Meeting
California Map Society Gathers Jan. 31 at Cal State Fullerton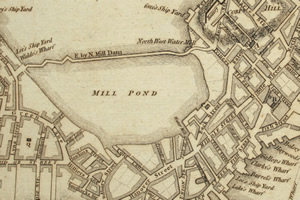 Boston in the 1700s.
What:
The digitized version of the Roy V. Boswell Collection for the History of Cartography, housed at Cal State Fullerton's Pollak Library, will be unveiled at a biannual meeting of the California Map Society that is open to the public. The collection, used for research by scholars worldwide, includes more than 1,500 historic maps and 2,500 supporting books and atlases.
When:
Saturday, Jan. 31
8:30 a.m. to 5 p.m.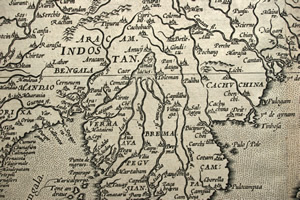 Lake Chia
Where:
Pollak Library, Cal State Fullerton, 800 N. State College Blvd., Fullerton
Speakers:
Albert Vogeler, Cal State Fullerton emeritus lecturer in liberal studies and Boswell curator, will speak on "Digitizing the Boswell Collection."
Terry Ahlberg addresses "The Jo Mora Maps/Posters," about the collection of maps drawn by Joseph Jacinto Mora between 1886 and 1945.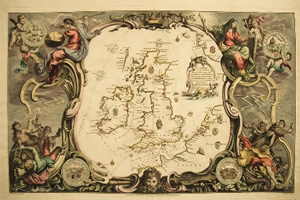 United Kingdom
Juan Ceva speaks on "Cartography of the Balearic Islands – A Collector's Survey," about collectible maps from Isolarii to touristic postcards of the Mediterranean region.
Judy Tyner, emeritus professor, Cal State Long Beach, addresses "Two Wheel Maps: The Use of Maps in Bicycle Travel Narratives," on the kinds and role of maps and the ways maps are used in such narratives.
Deborah Hann speaks on "Maps in Children's Literature: Their Uses, Forms and Functions," about how maps function as part of the story in children's literature ranging from picture books to "The Hobbit."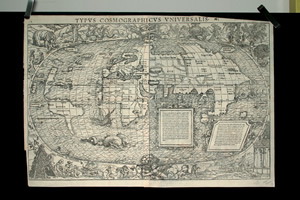 World Map by Munster
Neal Malloch addresses "The Big Map," a 600-foot-long relief map of California built in 1924 and previously exhibited in San Francisco. It includes 800,000 miniature hand-carved models of buildings, bridges, dams and other structures.
Farron Brougher and Annette Anderson-Ma will discuss "The Boswell Collection Online" and demonstrate the use of the digital collection. Brougher and Anderson-Ma assisted Vogeler in digitizing the collection.
Boswell Collection:
Maps from the 16th through 19th centuries are part of the collection, including one dating back to 1375. The map-digitizing project began in 2004. Read that story online: http://www.titanmag.com/2006/boswell/pg1.html
California Map Society:
The California Map Society holds two public meetings each year to educate the public about maps and cartography to encourage research and education in the field. With its extensive Boswell collection and other maps and supporting documents, Pollak Library is considered a rich source of information and research.
Cost:
$15 at the door (lunch not included)
More Info:
Available online: http://www.californiamapsociety.org/meetings/2009_Jan_schedule.htm or contact Greg McIntosh, California Map Society vice president for Southern California, at gregorymcintosh@yahoo.com.
Photos:
Images of maps in the Boswell collection available online: www.fullerton.edu/newsphotos