Stem Cell Effort
$1.28 Million Awarded to Train Student Researchers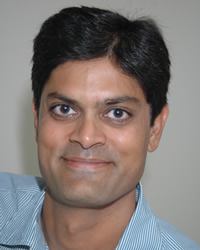 Nilay Patel
Cal State Fullerton's training program in stem cell research got a big boost this month, in the form of a $1.28 million Bridges to Stem Cell Research grant from the California Institute for Regenerative Medicine (CIRM).
The grant to Nilay Patel, assistant professor of biological science, funds the specialized training of 10 student stem-cell researchers a year for the next three years, as part of CIRM's effort to provide the skilled workforce California will need to compete technologically in this rapidly developing field.
Stem cells, the bodies' basic cells that change into specialized cells--muscles and organs--when they get a chemical signal, have huge potential for curing diseases and repairing physiological damage.
CSUF's program will pair each student with an internship mentor at UC Irvine, UC Riverside, USC and Children's Hospital of Orange County (CHOC), and provide-- stipends for their seven-month internships.
CIRM was formed after the passage of Proposition 71 in 2004, which approved bonds to fund, and regulate, stem cell training and research at approved universities and research institutions. Its Bridges awards augment the ranks of laboratory personnel trained in the techniques required by stem cell research labs--cell culture, microscopy, immunohistochemistry, fluorescence-activated cell sorting and analysis, micromanipulation, cell transplantation, animal modeling and good laboratory practices.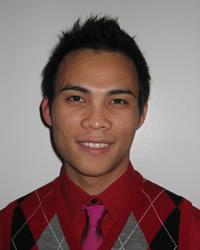 Hien Lu
The opportunity is a natural fit with the College of Natural Sciences and Mathematics, NSM Dean Steven Murray explains. "We had the first stem cell lab courses in the CSU system, and we have the expertise. Having the resources to continue this work will provide real benefits to our students. Nilay Patel and Bob Koch deserve all the credit."
Patel's success in winning this grant gained a strong assist from-- Robert Koch, department chair and professor of biological science, who funded a trial curriculum in 2007 with funds from his department budget. The effectiveness of Patel's initial effort earned a National Science Foundation grant of $140,000 for supplies and equipment upgrades.
CIRM Board Chair Robert Klein says funding these programs is an important step in ensuring that California has the trained technicians and researchers it needs to stay at the forefront of this developing research technology. "Training is critical to our mission of developing new therapies," he said, and CIRM's grants help bridge part of the budget gap from state cuts to higher education.
To give his students a leg up and attract future funding, Patel intends to go beyond CIRM requirements: "They see the stem cell lab training as largely taking place during the internships. Our program gives students six months of training before the internships begin, giving them a big head start."
Phil Schwartz, CHOC senior scientist, said he appreciates the additional training: "We are a training facility, but when they come here already familiar with much of what we teach, we can take them farther and do more with them, and they, in turn, can help us."
Patel reports that although the effort is in its early years, the program has already seen breakthroughs. "We've developed a chemical compound that promotes pluripotency — that is, the ability of the stem cells to differentiate into other cells — and another that helps modulate the direction a stem cell takes when it differentiates." The two years of experience have resulted in refinements in lab protocols and teaching approaches as well. Some of the 10 students Patel began training in 2007 already have entered the work force.
Hien Lu of Anaheim, a spring 2009 biological science graduate, is working as a lab associate at Focus Diagnostics, an infectious diseases testing service in Cypress, and credits the program for making the connection that led to the job offer. "My experiences in stem cell courses really stood out on my resume and landed me a lot of job interviews."
For Lu, the experience he gained at CSUF proved invaluable. "You can't just study stem cell research, any more than you can visit Paris by watching it on the Discovery Channel. You have to do it to feel it. It's an amazing feeling to see stem cells you prepared differentiate into beating cardiac muscle cells."
Brenda Noble of Placentia, a January 2007 biological science graduate, is now pursuing her master's degree and is a teaching assistant in Patel's class. A volunteer in the cancer stem cell lab at CHOC when Patel began offering the stem cell courses, the experience inspired her to make stem cell research her career goal.
Patel said the applications for his stem cell research program are due in March, and the selections of CIRM scholars will be announced in April. They will begin summer-long research projects after that, and start course work in the fall. Internships will start in January 2011, and the entire curriculum takes 14 months to complete.
Patel will serve as adviser and administrator throughout the internships, and "in September each year, we will host an open daylong symposium on campus focused on stem cell research. That will serve to make this stem cell program of value to all CSUF students."