Honoring Service
Iraq and Afghanistan War Veterans Feted Nov. 7
Retired Lt. General Ricardo Sanchez will share his experiences and sign copies of his book "Wiser in Battle: A Soldier's Story" from noon to 2 p.m. Thursday, Nov. 5, in the Alvarado Room of the Titan Student Union. Reservations are requested to the Women's Center at 657-278-3928.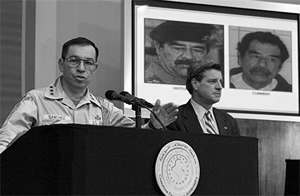 Retired Lt. Gen. Ricardo S. Sanchez
Who/What:
Retired Lt. Gen. Ricardo S. Sanchez, former commander of coalition forces in Iraq, will deliver the keynote address at the 13th annual Veterans Day celebration at Cal State Fullerton. This year's event will pay tribute to Mexican American veterans who served in Iraq and Afghanistan.
When:
Saturday, Nov. 7, 10 a.m.
Where:
Titan Student Union, Cal State Fullerton
800 N. State College Blvd., Fullerton, 92831
Why:
"For the last 12 years, Latino Advocates for Education, in association with Cal State Fullerton, has saluted our Mexican American veterans," said Orange County Superior Court Judge Frederick P. Aguirre, president of Latino Advocates for Education. "We do not glorify war or promote militaristic solutions to our nation's international affairs. We do not advocate that all Latino youth join our military forces. We are, however, justifiably proud of our veterans and of our patriotic heritage here in the United States. … This year, we honor our Iraq War and Afghanistan War veterans and their families."
Keynote Speaker:
Sanchez, commander of coalition forces in Iraq from 2003-04, was in charge of the forces that captured Saddam Hussein during Operation Red Dawn. The three-star general was the highest-ranking Latino in the U.S. Army when he retired in 2006, after 33 years of military service. Sanchez has a bachelor's degree in mathematics from Texas A & M University and a master's degree in research and systems analysis from the Naval Postgraduate School.
Sanchez's memoir, "Wiser in Battle: A Soldier's Story," published last year by HarperCollins, presents his own critique of the Iraq War, including an insider's account of the Abu Ghraib prison scandal.
Sponsors:
Latino Advocates for Education Inc. and Cal State Fullerton
Info:
www.latinoadvocates.org or 714-225-2499
Photo:
Available online at www.fullerton.edu/newsphotos