Long Road to Success for Physics Major-Turned Entrepreneur
Dan Black Program Propels Him to Graduation and Profitability
Jason Kiefer, 30, of Fullerton, works hard.
Until January, he took as many as five classes at a time as a student in the Dan Black Program in Physics and Business at Cal State Fullerton, worked part time as a bartender and put up to 80 hours a week into his new business, GimmeGrub.com, which has nothing to do with physics but a lot to do with business.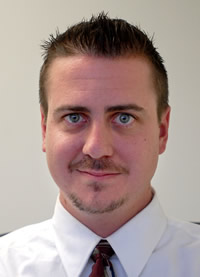 Jason Kiefer
Perfect.
Cal State Fullerton alumnus Dan Black, who initiated and financed the Dan Black Program in 1999, never worked as a physicist. That was in spite of that being his dream when he was a student. Instead, his career path and his own natural inclinations led him to become a multimillionaire business magnate, starting, then selling, three businesses: Trace Analysis Laboratory, established in 1973 and left behind about a year later; MineraLab (later renamed Medical Nutrition Inc.), launched in 1974 and sold in 1998; and another international nutritional-supplement company ProThera, started in 2001.
"I've always described myself as a good, solid, B-minus physics student," said Black. "I may not have had as much success if I had gone into business studies instead of physics. It seems to be harder to teach science to business students than to teach business to science students.
"And I want to emphasize," he added, "that you don't have to be an A student to succeed. As long, that is, as you have a good work ethic, dedication and a flexible approach."
"Physics disciplines your way of thinking," said Kiefer, who is graduating with a bachelor's degree in physics with an emphasis in business, explaining how he went from a computer programmer to astronomy major to Dan Black student to business entrepreneur.
"It is about logic, and about having a good [knowledge] foundation and about solving problems. After graduating from Corona High School with nearly all As, I went to a computer programming school. I was a computer programmer for a few years, wanted to take some interesting classes, so, in 1998, I started school again, at Cal State Fullerton."
His exploration included astronomy classes. "But it was the physics in astronomy that caught my attention," he recalled. "Things like how the chemical makeup of a distant planet could be determined and how much the planet weighed. So I switched my major to physics and got into the Dan Black Program, one of the first to get in. That was the best thing I could have done," he said.
"The Dan Black Program at Cal State Fullerton allowed me to explore business and entrepreneurship. My favorite part of the program was the Southern California Entrepreneurship Academy meetings that I attended on Saturdays," Kiefer said. "In these meetings, we were able to meet the founders and CEOs of local companies. These important people that I met turned out, for the most part, to be regular people. This showed me that I could do it, too, and so I decided to get my idea of GimmeGrub.com going. In one of these meetings, I met the owner of Lazy Dog Café, who is now one of my clients."
Roger Nanes, emeritus professor of physics, describes Kiefer as a "very entrepreneurial thinker." He said: "I have been overseeing the Dan Black Physics-Business Program since its inception in 1999. At that time, I wondered if we would ever actually see a successful business launch from the program. Now, GimmeGrub is making that a reality, and I am pretty excited about it."
GimmeGrub.com fits perfectly into Black's philosophy, Nanes explained. "Dan set up the program to be primarily aimed at students who are interested in combining an education in a high-tech field, while at the same time pursuing a career in the business world and, perhaps, starting their own company, rather than pursuing advanced education in physics. Jason and his partner are certainly high tech. They wrote the computer code and software themselves."
The Dan Black Program aims to attract students who have a strong interest in the physical sciences and who wish to start a new business or join the management teams of rapidly developing countries.
The program is designed for those students who have the entrepreneurial spirit and are willing to take above-average risks in order to start new businesses, as well as for those whose aim is to work on the management teams of rapidly growing high-technology businesses.
To that end, Dan Black students not only must complete the core classes in physics, but must also take a number of business courses.
A unique feature of the program is the hands-on opportunity to start businesses using venture capital provided by Black's ongoing donations to the university. His gifts also provide financial aid to qualifying students.
That financial aid is helping Kiefer to graduate, and the venture capital, he said, gave him an edge in starting GimmeGrub.com.
Kiefer said the genesis of GimmeGrub.com was at Subs Galore in Corona, where he worked part time while also working as a computer programmer at Raytheon. Subs Galore offered takeout, and Kiefer noticed how much time it took to take the orders and that, at times, orders could be lost when customers on the phone - put on hold while another order was being taken - hung up.
His solution was to write a computer program that took the orders online from the Subs Galore website, then automatically sent the orders to a printer, where the staff picked them up.
"We opened it up, and it was immediately popular," Kiefer recalled. "Customers loved being able to order online without interruptions, then just come over and pick it up. The staff loved the orders coming in without having to stop to answer the phone. The owner said he'd give me money for it," Kiefer recalled, grinning at his early triumph.
"Then a restaurant heard about it, and they wanted it, too. That started it," he said.
Kiefer and Emad Farraj, a fellow Raytheon programmer who graduated from UC Irvine with a degree in computer science, each put their own money into the business. Kiefer said he named the new enterprise GimmeGrub.com after a "namestorming" session, and each partner started putting in endless hours per week until they started hiring staff in January. Now they have an office near campus at the corner of Commonwealth and Chapman avenues.
"This is now our sole income," Kiefer said. "We've been adding new clients every month for the last year; we have assistants and sales staff. A summer intern from Cal State Fullerton is planned, and "we keep refining the software."
And, he said, "We're only working about 50 to 55 hours a week now. Plus classes for me, but now, I'm going to graduate - after 10 years! - and even that will be easier."
Kiefer's commencement exercise is scheduled for Saturday, May 17, at about 9:45 a.m., following the 8 a.m. university ceremony on the athletics fields north of Titan Gym.
Photo: Available online at www.fullerton.edu/newsphotos