Cal State Fullerton Librarian Honored
Ronald Rodriguez's Contributions to Hispanics Earns National Honor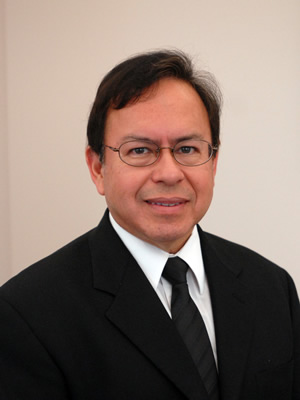 Ronald Rodriguez
Cal State Fullerton librarian Ronald Rodriguez has been honored with the Arnulfo D. Trejo Librarian of the Year Award presented annually by the National Association to Promote Library and Information Services to Latinos and the Spanish Speaking, or REFORMA.
"It is exciting and humbling to receive this level of recognition from your peers in an organization that I have been a member of for so long," Rodriguez said. "I hope that recognition like this may spark some interest in students that a career in librarianship is available and waiting for them."
Silas Abrego, associate vice president for student affairs, praised Rodriguez and said he deserves the Trejo honor. A recent winner of the Alfredo G. de los Santos Jr. Distinguished Leadership in Higher Education Award from the American Association of Hispanics in Higher Education, Abrego said Rodriguez has worked tirelessly to help Latinos with their education and careers.
"I worked with him for years, including while he was growing the Chicano Resource Center in the Pollak Library," Abrego said. "He knew that many of the students who frequented the CRC were first in their families to attend college and that many faced economic challenges. Through his leadership, the CRC became the 'home away from home' for many of the Latino students. Ron is low-key, but is dedicated to helping students succeed."
Trejo honorees must first be nominated by a REFORMA member, then the nomination endorsed by other members. A committee evaluates the nominee on career distinction, service to the Spanish-speaking and Latino communities, support for unmet needs in the community and contributions made to REFORMA.
"I don't see myself as a REFORMA superstar," said Rodriguez, who is in charge of the university library's access services, "but as one librarian helping to promote the various issues
REFORMA has championed over the years, such as increasing the number of Latina and Latino librarians and encouraging curricular attention to diversity in graduate library education programs nationally.
Rodriguez earned his honor for his presentations and service. In REFORMA, Rodriguez has served as president of both the national organization and the Orange County chapter. In service to the Spanish-speaking/Latino community, he has mentored students, served five years on the E. J. Josey Spectrum Scholar Mentor Committee and co-sponsored librarian recruitment programs through San Jose State.
The Fullerton resident is a member of Diversity in Academic Libraries and REFORMA's 2008 National Conference Planning Committee, and currently serves on the board of directors of the Trejo Foster Foundation of Hispanic Library Education.
A library staff member at Cal State Fullerton from 1989 to 1995 then again since 2006, with stints in the Rio Hondo College and Chapman University libraries in between, Rodriguez earned a bachelor's degree in English and Chicano studies from Cal State Northridge, a master of public administration from Cal State Fullerton, as well as a master's in library science and information from UCLA.