Slip Slidin' Away
Cover Bare Slopes Or Face More Slides After Rain, Engineer Warns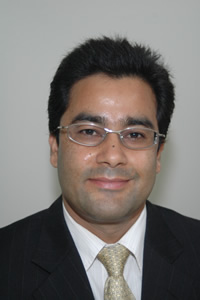 Binod Tiwari
Put tarps on all burned and bare slopes steeper than 20 degrees before this weekend's predicted rains, advises Binod Tiwari, landslide and earthquake engineering expert.
"Think weeks ahead, because slides can happen long after the rains. Even if your slope doesn't look like it needs protection, it could protect your neighbor's home because water could soak onto their side."
The assistant professor of civil and environmental engineering at Cal State Fullerton predicted slides like those now afflicting Yorba Linda even before the late November rains. And he believes more slides are certain, if it rains heavily this weekend.
"Most people think if the storm passes and their slope hasn't given way, then they got a 'pass,'" Tiwari said. "It rarely works that way. Real slides often come later, after water has percolated down, adding its weight to the slope and decompacting the soil. Depending on the soil type, saturation level and slope, slides can follow a rain by several weeks, as happened recently in Yorba Linda."
The constant seismic activity in Southern California compounds the problem, Tiwari explained.
"Shaking, even when too mild to be noticed, nevertheless gently jostles the soil loose. If the soil is already wet from the top down, the loosening is exaggerated. There were small earthquakes shortly before and a few times immediately after the late November rains, as well as one under Modjeska Peak today," he pointed out.
"Those were small quakes after a small storm. In Japan in 2004," Tiwari said, "a large earthquake following a typhoon caused thousands of mudslides and landslides, and resulting fatalities. The scale was larger, but the principles are the same."
Tiwari warns that slides can happen without rain.
"Human activity, like construction, and earthquakes combine to keep soil from compacting densely. Landscaping has replaced the mats of native grasses and shrubs that once held the soil on many hillsides. Over watering is common, which has the same effect as rain. Consequently, a great many slopes of 30 degrees or steeper can slide at any time of year," he said.
Tiwari, a Buena Park resident, holds memberships on the International Committee on Landslides and Engineered Slopes and the Slopes and Embankment Committee of the American Society of Civil Engineers. He studies what destabilizes slopes and what can keep them stable. As part of those studies, he designed the Soil Mechanics Laboratory at Cal State Fullerton's College of Engineering and Computer Science.
His current research concentrates on the relationship between slides and earthquakes in the Himalayas, Karakoram and Tora Bora mountain ranges.
He earned a doctorate in environmental management science with a specialization in geotechnical engineering from Niigata University in Niigata, Japan. While there, he participated in research at the internationally known Natural Hazards and Disaster Recovery Research Center, which shares its findings with the U.S. and other nations. The center specializes in seismic activity and landslides.
Photos available online at www.fullerton.edu/newsphotos