Echoes of the Past Will Help the Future
Geological Scientist Studies Ancient Lake Bed to Predict Future Climate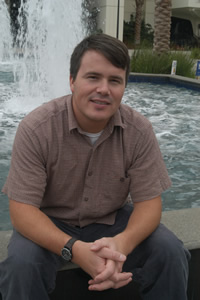 Matthew Kirby
The combined pressures of population growth, water scarcity, loss of farmland to development and global warming make predicting the future of Southern California's long-term climate a critical task, says a Cal State Fullerton researcher delving into prehistoric climate trends.
Especially crucial is determining 'tipping points,' those times when atmospheric and oceanic factors coalesce, causing sudden massive changes, says Matthew E. Kirby, associate professor of geological sciences. He points out that global warming can greatly speed climate cycles toward such changes, including unrelenting drought.
Kirby has spent seven years studying prehistoric climate trends and tipping points in his quest to make such predictions.
In his latest research, he goes farther back in time by looking deeper into the earth, using seismic reflection technology to build a 3-D image of the sediment layers beneath Lake Elsinore to a depth of 200 meters — or the equivalent of about 200,000 years of sediment layers, said Kirby. With the 3-D image capable of giving detail to an area as small as a single meter, he expects those layers to reveal the story of past climate change, including buildups to tipping points.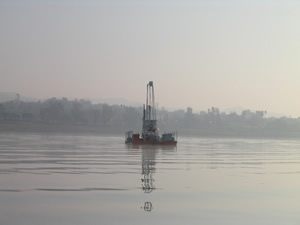 Drilling barge on Lake Elsinore.
While the typical person looks at climate in terms of a single human life span, paleoclimatologists, explained Kirby, look at data on a millennial scale, "and the past 10,000 years have been relatively subdued. The last glacial period ended then. That period also covers most of the time humans have lived in the area.
"The period before that, though … is characterized by abrupt, large-amplitude climatic change," Kirby said. "That could happen again. This research will allow us to extend our knowledge to that period of time and what causes large climate changes. Moreover, it will provide some context for how ecosystems in Southern California responded to large climatic change."
This month, Kirby began building the 3-D image, funded by a $65,000 American Chemical Society grant. Next fall, he will bore as much as 50 meters into the sediment in the deepest part of the lake, or as much as 50,000 years. Core samples Kirby drilled earlier under a National Science Foundation grant go back about 11,000 years. The new ones will take him back to peak glacial conditions.
Kirby is using low-power transducers to produce echoes for the seismic images. He said he chose those in order to cause no harm to biological life in the lake. Still, the images will provide a sort of side bonus: They will show faults and other tectonic features related to the lake's geologic development, he explained.
"I will be working with one of the world's leading lake seismic stratigraphers, Christopher Sholz from Syracuse University. We will get as much out of this as we can," Kirby said.
A Buena Park resident, Kirby has collaborated in his research with scientists from USC, UC Berkeley, University of Michigan, UC Riverside and Syracuse University, where he earned his doctorate.