Stan Kenton Christmas Carols With
Boston Brass & The Brass All-Stars Big Band
WHO:
Department of Music at Cal State Fullerton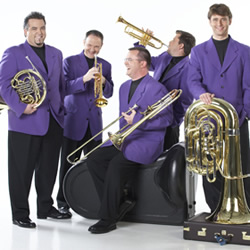 Boston Brass
WHAT:
The Stan Kenton Christmas Carols with the
Boston Brass & The Brass All-Stars Big Band
WHEN:
8 p.m. Tuesday, Dec. 2
WHERE:
Meng Concert Hall, California State University, Fullerton
800 N. State College Blvd., Fullerton
PROGRAM:
Holiday Program includes:
God Rest Ye Merry Gentleman
Greensleeves
O Tannenbaum
O Holy Night
The Twelve Days of ChristmasJ
Motown Jingle BellsJ
BACKGROUND:
The jazzy rhythms and spectacular Big Band sound of Stan Kenton's Christmas classics come alive with the world-famous Boston Brass. Holiday classics from God Rest Ye Merry Gentlemen to holiday hits like Motown Jingle Bells will be heard in all-brass big band arrangements as part of this special holiday performance.
The original five members of the Boston Brass were teamed up with all-star players from around the world in winter 2005. Now a band of 18, this ensemble of all-brass (French horns, trombones, trumpets and tubas) plus piano, bass, drums and percussion consists of (in alphabetical order): Chris Cooper (formerly Canadian Brass), Scott Hartman (formerly Empire Brass), Dan Hostetler (formerly of Dallas Brass), Jens Lindemann, Jeff Nelson, Mark Frost and Scott Thornberg (formerly Brass Band of Battle Creek), and many more.
That same year they recorded a CD of Stan Kenton Christmas Carols. Conducted by Sam Pilafian, the holiday music CD features popular Kenton Band songs that hit the charts. The recording of the CD started a new holiday tradition with Boston Brass. The Boston Brass performs this popular Christmas concert every holiday season, while also performing well over 100 concerts on an annual basis.
To find out more visit Boston Brass' official website: www.bostonbrass.com/live/
TICKETS:
Advance sale $35 ($30 with advance Titan discount)
At the door all tickets are $35.
BOX OFFICE:
Tickets available at Cal State Fullerton's Clayes Performing Arts Center Box Office, 657-278-3371. Hours are 11 a.m. - 4 p.m., Mondays-Fridays and one hour prior to performance. Online sales at www.fullerton.edu/arts/events.
WEB SITE: